Available for print / Web / mobile
Kathryn Jean Lopez, editor of National Review Online, writes a weekly column of conservative political and social commentary for Newspaper Enterprise Association. An award-winning journalist and editor who has been praised for "editorial daring," Lopez has covered issues as diverse as the left-wing takeover of the Girl Scouts to the war on terror. She writes frequently on bioethics, religion, feminism, education, and congressional politics, among other topics.

Kathryn Jean Lopez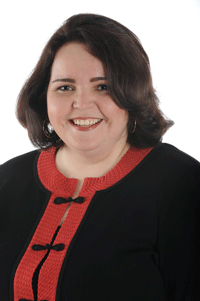 Kathryn Jean Lopez is a senior fellow at the National Review Institute where she directs the Center for Religion, Culture, and Civil Society. She is also editor-at-large of National Review magazine (where she has been on the editorial staff, including for many years as editor of National Review Online, since 1997).
She is also a nationally syndicated columnist with Andrews McMeel Universal and author of A Year with the Mystics: Visionary Wisdom for Daily Living.
Her "Things that Caught My Eye" feature can be heard every weekday on The Catholic Channel on Sirius XM Channel 129.
She is also a columnist for Our Sunday Visitor's Newsweekly and on the editorial advisory board of Angelus, where she contributes monthly essays and is co-author of the book "How to Defend the Faith without Raising Your Voice." She is also a contributor to recent books which include "Women Who Pray: Eleven Catholic Women on the Power of Prayer" and the "Mind, Heart, and Soul: Intellectuals and the Path to Rome and Saint Patrick's Cathedral: The Legacy of America's Parish Church."
Lopez has been published by a wide variety of publications including the Wall Street Journal, New York Times, Stars and Stripes, The National Catholic Register, and First Things.
Among other honors, she was awarded the annual Washington Women in Journalism Award for Outstanding Journalism in the Periodic Press from CQ Roll Call in 2016 for writing about genocide against Christians in the Middle East and religious persecution.
Lopez speaks frequently on faith and public life, including on college campuses, as well as on radio and television, including on CNN, MSNBC, Fox News, PBS, EWTN, and Vatican Radio.
A product of New York City Catholic education, she has served on a number of Catholic boards and is a member of Cardinal Timothy Dolan's Pro-Life Commission.
She is also a certified spiritual director.
Meet the Cast of Kathryn Jean Lopez