Available for print
Is there life after Sudoku? Indeed. It's called Hidato.


Star Trek's Mr. Spock would have loved
Hidato
because it's based totally on logic&"no guesswork is needed. Each
Hidato
puzzle starts with a grid partially filled with numbers. The goal is to fill the grid with consecutive numbers that connect horizontally, vertically or diagonally. Each puzzle has only one possible solution. The first and last numbers of a puzzle will be in circle markers. Number lovers and sudoku fans will love this new game.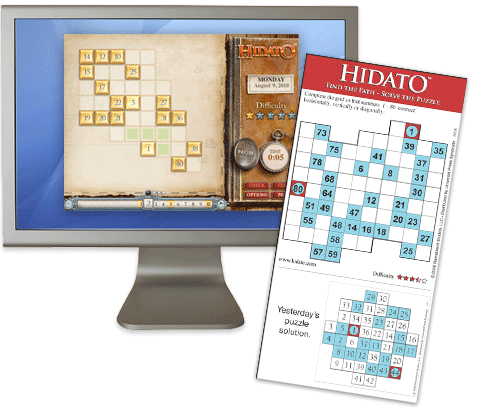 Gameblend Studios, LLC
Dr. Gyora Benedek is a prominent computer scientist from Israel. In his spare time, he invents and develops games and logic puzzles, including the worldwide hits Lights Out, NimX and iTop. Fluent in seven languages, he was born in Transylvania and now lives in Israel. Active in many different sports, he came up with the idea for Hidato while scuba diving, watching the strange, hypnotic patterns of the fish: "It was dizzying and puzzling - maybe that was what made me think of a puzzle. Can I connect the dots and reconstruct the fishes' crazy swimming pattern? Can I create a puzzle like that?"
He created Hidato soon after, concluding that "a good puzzle ... must have a unique solution and ... solving it should not require any trial and error."