Deep Cover's unique style of provocative political satire has won it a loyal following. Using an unusual mini-movie storytelling format, recovering lawyer Tim Eagan punctures pompous personalities, deflates bloviators, and attempts to shine light where it is most needed. This outrageous strip appears in mainstream and alternative West Coast papers and has been described as Tom the Dancing Bug meets Ted Rall.
Tim Eagan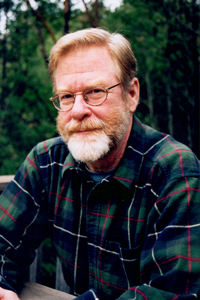 Tim Eagan has been cartooning politics for thirty years. His work was first seen in Santa Cruz, California in the form of single-panel editorial cartoons. His outlets were mostly alternative weeklies until the San Francisco Examiner began to use his work.
In 1994, the Examiner invited Eagan to create a political comic strip as a regular feature for the paper. That was the beginning of Deep Cover. Deep Cover runs in a variety of weeklies and dailies nationwide and is featured in the recently-published "Attitude: The New Subversive Political Cartoonists."
Eagan's work also includes the alternative strip Subconscious Comics, which ran for nearly twenty years before attaining a state of suspended animation. His publications include the graphic novels "All-Night Comics I" and "All-Night Comics II" and "The Collected Subconscious: An Anthology of Subconscious Comics."
Before becoming a full-time cartoonist and illustrator and part-time everything else, Eagan received his law degree from the University of California and became a member of the California Bar. He served as a Deputy District Attorney in Santa Clara County ("The People are ready, your honor") and later as a staff attorney for the Santa Cruz Community Legal Clinic ("She gets the house, you get lost"). His campaign for the office of District Attorney in Santa Cruz County, though it received the unqualified endorsement of the Cartoon Party, ended in pyrrhic defeat. Still, the electorate came to love his left-wing populist libertarian positions.
Eagan's preoccupation with political satire extends into other areas as well. He has taught political cartooning in local junior high schools for over fifteen years. In the mid-1980s he wrote and performed on KUSP-fm's "15-Minute Comedy Hour." Over forty of the show's pieces were aired on National Public Radio's "All Things Considered."
Eagan was born in San Francisco, California and traveled East to Dartmouth College in Hanover, New Hampshire. He went on to graduate from Hastings College of the Law in San Francisco, California.
Meet the Cast of Tim Eagan
Deep Cover by Tim Eagan is a scathing commentary on politics as usual, the toll the modern world takes on its inhabitants, and everything that's ever made you scream at your television. The art and writing are both top-notch.