Welcome to the wonderful world of obsessive compulsive cartoonist Frank Page and his band of misfits. Bob the Squirrel chronicles the life and times of Bob, a squirrel and Frank, the human he's taken in as his own. Along with a supporting cast of wacky (and occasionally responsible) characters, there's something for everyone in Bob the Squirrel... Stop by daily to see what's going on. You will not be disappointed!
Frank Page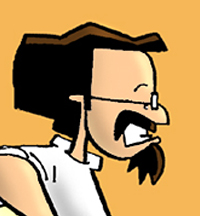 After cartooning in both his high school and college newspapers, Frank Page graduated from college with a BFA in illustration and went to work in the production department of the Rome Daily Sentinel, in Rome, NY. In 1999 he began editorial cartooning for the paper, and has since won the Syracuse Press Club's Best Cartoon Award three years in a row, and received several Honorable Mentions from the National Newspaper Association. On The Page, a collection of his work, was published in 2001.
His strip Bob the Squirrel was launched in 2002, and joined comicssherpa.com in 2003.
His idea of the perfect life: "Draw all day. A strip in the morning, an editorial in the afternoon. And a Diet Coke machine right next to my desk."
Meet the Cast of Bob the Squirrel
Frank Overworked, overwhelmed, obsessive compulsive cartoonist.


Bob Smart-mouthed squirrel.


Lezley Foofy coffee chick. Frank's girlfriend.


Lauren Lezley's daughter.


Lady Lezley and Lauren's bark-happy collie.


Lucy Frank's Jack Russell Terrier. Devourer of nachos. Foil to Bob.

Bob the Squirrel is a look into a mad, mad world. How else can you describe a household with a cartoonist, a squirrel, two dogs and a responsible (and exasperated) barista? From the maddening, soul-deadening crush of the workday to the challenges presented by an irreverent squirrel locked in constant conflict with a nacho-loving Jack Russell terrier, there's something for everyone.