Ah, the joys of a boy and his dog. His robotic dog...Yes, Skip Smalls' dream of a canine sidekick came true when Bleeker beeped into his life -- batteries included. For this delightful duo it's not just about tug of war and the gnawing of bones. Bleeker can fetch, but he can also fax -- and print, place calls, detect smoke, photograph, download email, serve as a GPS, and handle Skip's homework planner. He's not bug-free: if he spends too much time with Grandpa, he starts hooking rugs and wearing slippers. And if you stuff Mars bars in his battery socket -- well, there are problems. Nonetheless Bleeker (BLKR501 to IM pals) is all the dog a boy, or a comic strip, could want.
Jonathan Mahood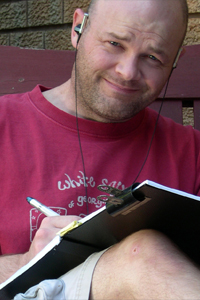 Jonathan Mahood grew up in a family surrounded by newspaper comics. His mother's Pogo books, his father's Herman treasuries, and his brother's Doonesbury collections were all early influences. As a teenager he began creating his own strips, and continued collecting anthologies of the greats, including Peanuts, Bloom County, The Far Side and Krazy Kat.
In addition to cartooning, Jonathan spends his time carving sculptures and building furniture. In 1992 he graduated with a Bachelor of Fine Arts degree from York University in Toronto.
Bleeker the Rechargeable Dog was launched in July 2006 on Comic Sherpa
Jonathan lives and works in a small town north of Toronto.
Meet the Cast of Bleeker: The Rechargeable Dog
Bleeker He's a robot dog with an innate sense of responsibility and a particularly childish owner.


Skip He's an accident-prone boy with big dreams and poor motor skills.

Bleeker: The Rechargeable Dog is proof that high concept ideas can garner big laughs. Jonathan Mahood takes the classic story of a boy and his dog and brings it into the future with his vision of a dog that, while distinctly canine, has a high-tech take all his own. Between Skip's misadventures and Bleeker's desperate attempts to keep his owner from causing too much chaos, there's a lot of charm to be found in this sharply drawn strip.