Basic Instructions started out as a small side-feature Scott Meyer created to entertain people who came to his website looking to hire a comedian. It wasn't long before the comic was far more popular than anything Scott ever did as a comedian. Basic Instructions is a series of guides meant to help you lead a better life. They cover topics as diverse as How to Deal with Boredom and How to Travel Back in Time to Deliver a Dire Warning to Your Former Self. Basic Instructions is populated with exaggerated versions of Scott, his family and his friends, which has caused no small amount of unpleasantness.
Scott Meyer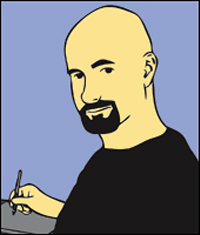 Scott Meyer honed his writing skills touring the country as a stand-up comedian. After twelve years, he turned his back on stand-up to devote himself to drawing comics, which he finds far more fulfilling, and doesn't involve hanging around with drunks.
Scott Meyer now lives in Florida with his wife and two cats.
Meet the Cast of Basic Instructions
If you've ever needed an instruction manual for life, this is probably not going to help you out all too terribly much. However, if you're in need of a good-natured bit of staggeringly bad (yet detailed!) advice, you've come to the right place. Basic Instructions will take you by the hand and lead you to a place of knowledge. Just remember: Some things once seen can never be unseen.