Behold, two rabbits: Eightball, an ever-upbeat offbeat optimist, and Weenus, sarcastic and small, one-eyed, bitter. The latter is possessed by an Ignatizian longing for the unobtainable Trixie -- bohemian, reader of existential philosophy, master of the diatonic button accordion. And please take note of the foxes: Pif, rabbit-friend, smarter than he looks, caretaker of Jumpy the flea; and Preston, Pif's dad, a hardcore carnivore, rabbit-hungry and dangerously dumb. There is beguiling beauty in this strange and colorful world, and also a duck named Doodles. Did we mention the MacGuffin in the briefcase? Let the show begin.
Jonathan Lemon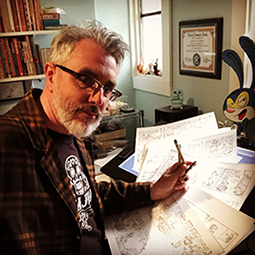 Jonathan Lemon's cartoons, illustrations and animations have graced numerous posters, CD covers, magazines, advertisements and software. His editorial cartoons have appeared in the Boston Globe, the San Francisco Bay Guardian, and other papers. He lives in San Francisco's Mission District, drives a fire-engine-red Toyota Echo, and has no cats.
Meet the Cast of Rabbits Against Magic
Eightball Ever-upbeat optimist.


Weenus Sarcastic and small, one-eyed and bitter.


Trixie Object of Weenus' affection. She does not share his feelings.

Rabbits Against Magic takes place in a world populated by rabbits. It's not so different from our own, really. The jokes are fast and furious, a combination of sight gags and carefully constructed punchlines. There's romance, art, and everything that makes life great. Sometimes there are puns, but nobody's perfect.