Enjoy the existential adventures of transplanted Parisienne Mona Montrois as she chain-smokes her way to equilibrium in the City of Angels, armed only with the sage advice of confidant and adviser Monsieur Smokey, a lewd, chauvinistic stuffed bunny.
Jennifer Babcock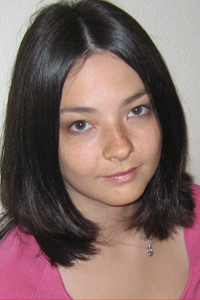 Jennifer Babcock is the cartoonist behind C'est la Vie. She went to UCLA for her BA and earned her Master's Degree in art history and archaeology from New York University's Institute of Fine Arts, where she's currently a Doctoral candidate working on a dissertation in the field of Egyptology. Jennifer was also a curator at the Museum of Comic and Cartoon Art in New York, where she mounted the first ever exhibition dedicated to the art and culture of webcomics. She currently lives in New York with her husband. She also loves rabbits- especially brown ones.
Meet the Cast of C'est la Vie
Mona A transplanted Frenchwoman with a smoking habit, a bad attitude, and a fierce intelligence.


Donna Mona's flaky roommate.


Pierre Mona's brother. He's not as bad as he seems. Sometimes.


Monsieur Smokey Male chauvinist stuffed rabbit. Mona's best friend.

C'est la Vie is one of my favorite comics. Though surly Frenchwoman may not sound like a good time to you (though maybe it does? I don't know your life!), Jennifer Babcock has created a funny, sympathetic, infuriating, character in Mona Montrois, and you'll want to see all the twists and turns her story has to offer.