Available for print / Web / mobile
With a worldwide readership of more than 110 million, Dear Abby has a devoted following who wouldn't dream of starting each day without her. The most widely syndicated columnist in the world, Dear Abby is well-known for sound, compassionate advice delivered with the straightforward style of a good friend. Share a laugh, shed a tear or learn something new every day with Dear Abby.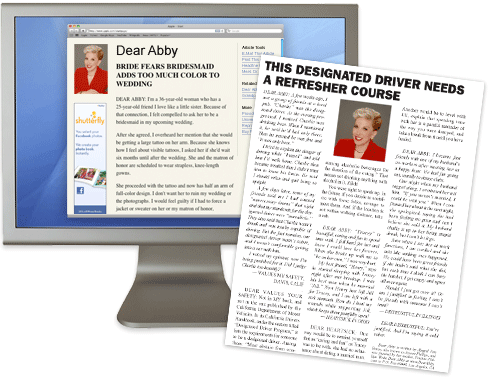 Abigail Van Buren
Dear Abby is written by Abigail Van Buren, also known as Jeanne Phillips. When Jeanne was 14 and needed a little spending money, her mother asked, "How do you intend to earn it?" Her mother, Pauline Phillips, had more in mind than the usual household chores. She had recently started writing a nationally syndicated advice column under the pseudonym Abigail Van Buren. A deal was struck — the beginning of a lifelong partnership.
Dear Abby is one of only three laypersons ever to be granted a prestigious Life Consultant membership in the Group for Advancement of Psychiatry (GAP), an organization of nationally respected psychiatrists dedicated to shaping psychiatric thinking, public programs and clinical practice in mental health. She is the recipient of the 2015 Proxmire Award for leadership in public awareness of Alzheimer's disease and dementia, and the Hearing Loss Association of America's 2015 Walter T. Ridder Award.
In addition, Phillips sat on the Board of Judges for the Talbots Charitable Foundation Women's Scholarship Fund, the Advisory Boards of the National Alzheimer's Association, the Children's Rights Council, Mothers Against Drunk Driving, and is a member of the Board of Directors of the National Kidney Foundation. She has received awards from the National Office of Drug Policy, American Academy of Dermatology for excellence in public education of dermatology issues, American Ex-Prisoners of War, Overeaters Anonymous and the national Minority Organ Tissue Transplant Education Program.
Meet the Cast of Dear Abby
American newspaper readers have been turning to Dear Abby for good advice and to share a laugh for more than 50 years now. Starting the day in 1956 when a California housewife persuaded editors at the San Francisco Chronicle that she could write a better advice column, reading Dear Abby has become a daily tradition passed from parent to child just as the column itself has passed from mother to daughter.
Today, Jeanne Phillips dispenses advice, offers comfort (or a reality check) and settles disputes with the same mix of wit and wisdom that endeared her mother to millions of readers and turned Dear Abby into a cultural icon. The times have changed, but Dear Abby's appeal hasn't. Nor have the issues and irritations that fill Abby's mailbox.
Cheating spouses, angst-ridden teens, bossy mothers-in-law and annoying neighbors share space with stories of everyday kindness and heartbreaking tragedy. It's Abby's unique ability to read between the lines and respond knowledgeably with compassion and humor that wins her the loyalty of her millions of fans.