Available for print / Web / mobile
One of the fundamentals of good health is good information. And with so much information now available online, on Facebook and on the evening news, it can be confusing to know whom you can trust to answer essential medical questions. If you aren't sure whom to ask, know that you can always "Ask the Doctors." This new question-and-answer column is written by two enthusiastic young internists who will address readers' most pressing medical inquiries three days a week. Drs. Eve Glazier and Elizabeth Ko will give readers the same thoughtful analysis that they give their patients every day. The topics discussed will include everything from current health trends to personal medical opinions. Both doctors are affiliated with UCLA Health and its hospitals and clinics; Dr. Glazier also teaches at the UCLA School of Medicine.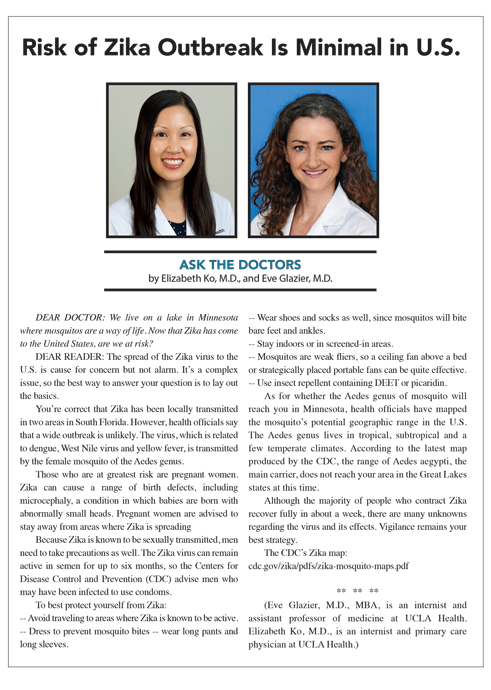 Eve Glazier, M.D.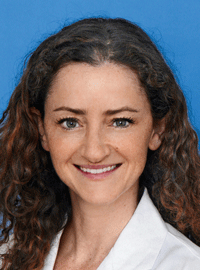 Eve Glazier, M.D., MBA, is an internist and an assistant professor of internal medicine at UCLA Health. She has been practicing primary care for eight years. Her clinical interests include women's health, and preventive and integrative medicine. She deeply values her long-standing relationships with her patients and their families.
She is also the medical director of UCLA Entertainment Health, where she oversees UCLA's Motion Picture Television Fund Health Centers.
Glazier earned her medical degree from Columbia University College of Physicians and Surgeons. She completed her internal medicine residency and chief residency at UCLA.
Born and raised in Los Angeles, Glazier attended the University of California, Berkeley, where she graduated Phi Beta Kappa with a degree in comparative literature and drama. After an extended illness in her senior year, she decided to pursue a career in medicine.
Glazier lives in Los Angeles with her three daughters.
Elizabeth Ko, M.D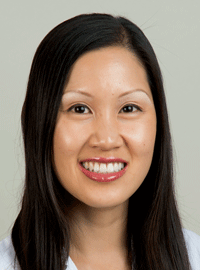 Elizabeth Ko is an internist and primary care physician at UCLA Health. Her clinical interests include lifestyle interventions for the prevention and management of chronic disease, including diabetes, hypertension, obesity and depression. Health, she believes, is not simply the absence of disease, but a state of physical, emotional and spiritual wellness.
Ko earned her medical degree from the University of Miami School of Medicine. She then moved to Providence, Rhode Island, where she completed her residency and chief residency in internal medicine with a focus on primary care.
Ko is a Fellow of the Arizona Center for Integrative Medicine. She is also a Fellow of the American College of Physicians.
Born in Chicago and raised in Los Angeles, Ko attended the University of California, Los Angeles, graduating with a degree in physiological science. Today, Ko lives in Los Angeles with her husband, an internist and pediatrician, and their daughter.
Meet the Cast of Ask the Doctors