Available for print / Web / mobile
Political and legal commentary on current issues with a hard-right tilt, characterized by sarcasm, hyperbole and wit. Ann loves this quote from the English newspaper The Guardian: She has succeeded in driving to fury U.S. liberals, the people she baits for sport. She has high visibility because of her frequent TV appearances (the Tonight Show, the Today show, Larry King Live and the various Fox talk shows), her best-selling books and her speaking tours. She was the cover story for Time magazine's April 25, 2005 issue. Her legal background (see her bio) adds to her appeal; according to Ben Shapiro of Townhall.com: Coulter isn't simply a terrific writer ... She is also a scholar.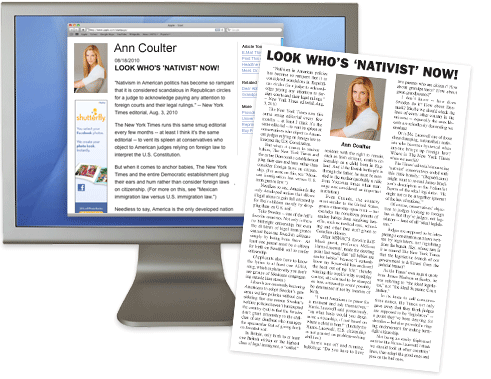 Ann Coulter
Honors graduate of Cornell University and the University of Michigan Law School; law clerk for the 8th Circuit Court of Appeals; legal counsel to Sen. Spencer Abraham on the Senate Judiciary Committee; practiced corporate law. Political pundit from 1996-1999 on MSNBC. In addition to her numerous appearances on network talk shows, she has been profiled in The New York Times, The Washington Post, People magazine, National Journal and Harper's Bazaar. In addition to her newspaper column for Andrews McMeel Syndication, she also writes a column for the conservative weekly Human Events, in which she discusses judicial rulings and constitutional issues. She is a native of New Canaan, Conn.
Meet the Cast of Ann Coulter
Love her or loathe her, you can't be neutral about Ann Coulter. She pushes all the right buttons to infuriate liberals and delight conservatives. She takes great glee in pushing the envelope, in making mountains out of molehills, but all the while backing her occasionally outrageous claims with wit and solid legal knowledge. If you're ever at a dinner party with politically savvy guests, you can always get a lively conversation started by quoting one of Ann's latest screeds against liberals!