Available for print / Web / mobile
Political and legal commentary on current issues with a hard-right tilt, characterized by sarcasm, hyperbole and wit. Ann loves this quote from the English newspaper The Guardian: She has succeeded in driving to fury U.S. liberals, the people she baits for sport. She has high visibility because of her frequent TV appearances (the Tonight Show, the Today show, Larry King Live and the various Fox talk shows), her best-selling books and her speaking tours. She was the cover story for Time magazine's April 25, 2005 issue. Her legal background (see her bio) adds to her appeal; according to Ben Shapiro of Townhall.com: Coulter isn't simply a terrific writer ... She is also a scholar.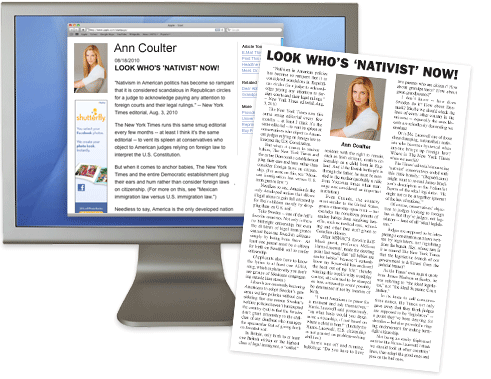 Ann Coulter
Ann Coulter is the author of 13 New York Times bestsellers — most recently, "Resistance Is Futile!: How the Trump-Hating Left Lost Its Collective Mind." Coulter is the legal correspondent for Human Events and writes a popular syndicated column for Andrews McMeel Syndication. She is a frequent guest on TV shows, including HBO's "Real Time With Bill Maher," "The Today Show," "Good Morning America" and "The Early Show" and has been profiled in numerous publications. In 2001, Coulter was named one of the top 100 Public Intellectuals by federal judge Richard Posner. A New Canaan, Connecticut, native, Coulter graduated with honors from Cornell University School of Arts & Sciences, and received her J.D. from University of Michigan Law School, where she was an editor of The Michigan Law Review. She clerked for the Honorable Pasco Bowman II of the United States Court of Appeals for the Eighth Circuit and was an attorney in the Department of Justice Honors Program for outstanding law school graduates. After practicing law in private practice in New York City, Coulter worked for the Senate Judiciary Committee, where she handled crime and immigration issues for Sen. Spencer Abraham of Michigan. From there, she became a litigator with the Center for Individual Rights in Washington, D.C., a public interest law firm dedicated to the defense of individual rights with particular emphasis on freedom of speech, civil rights and the free exercise of religion.
Meet the Cast of Ann Coulter
Love her or loathe her, you can't be neutral about Ann Coulter. She pushes all the right buttons to infuriate liberals and delight conservatives. She takes great glee in pushing the envelope, in making mountains out of molehills, but all the while backing her occasionally outrageous claims with wit and solid legal knowledge. If you're ever at a dinner party with politically savvy guests, you can always get a lively conversation started by quoting one of Ann's latest screeds against liberals!