Available for print / Web / mobile
Lalo Alcaraz -- award-winning editorial cartoonist and Latino journalist -- captures the essence of the country's changing cultural and political landscape. Alcaraz has produced editorial cartoons for LA Weekly since 1992 and also creates cartoons in Spanish for La Opinion, the United States' oldest Spanish-language newspaper. His work has appeared in The New York Times, The Village Voice, Los Angeles Times, Variety, Hispanic Magazine, Latina magazine, La Jornada in Mexico City, BUNTE, (Germany's People magazine) and many other publications. Add instant variety to your Web site's news and opinion offerings with Alcaraz's intelligent, youthful and thought-provoking perspective.
Lalo Alcaraz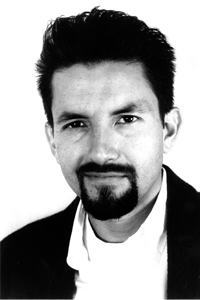 Lalo Alcaraz is an award-winning nationally syndicated editorial cartoonist based in Los Angeles and the creator of the syndicated daily comic strip La Cucaracha. He also creates editorial cartoons in English and Spanish for Andrews McMeel Syndication, appearing in various newspapers.
Alcaraz was a Pulitzer finalist in 2020 and 2021 for Editorial Cartooning and the first Latino recipient of the Herblock Prize in 2022. He was a writer and producer on the animated TV show Bordertown for Fox TV in 2014 and a Cultural Consultant on the Oscar-winning Pixar movie Coco. He lives in Los Angeles with his public schoolteacher wife and has almost three kids in college.
Meet the Cast of Lalo Alcaraz
Lalo Alcaraz combines sharp, elegant art with a straightforward message. He pulls no punches, and though his cartoons often focus on the struggles between the U.S. and Mexico (especially in regard to immigration), no target is exempt from his biting wit.