Available for print / Web / mobile
The Born Loser began in 1965 as a strip with no central characters that revolved around the loser theme. Gradually, it developed into the comic we see today, starring lovable loser Brutus Thornapple, his wife Gladys, mother-in-law Ramona Gargle, boss Rancid Veeblefester, dim-witted son Wilberforce and the mischievous neighbor Hurricane Hattie O'Hara.
As it enters its golden (50th) anniversary in May 2015, The Born Loser continues to mine the depths of everyday life, unearthing rich nodes of laughter and bemusement.
Chip Sansom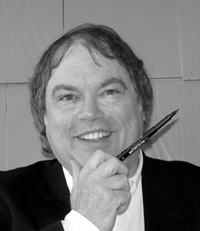 Chip Sansom is the cartoonist behind the comic strip The Born Loser, which was created by his father, Art Sansom, in 1965. The Born Loser, features the everyday trials and tribulations of Brutus Thornapple, the title character. He's surrounded by his loving but domineering wife, Gladys; their son, Wilberforce, who is a chip off the old blockhead; Rancid Veeblefester, Brutus's tyrannical and ill-tempered boss; Wilberforce's mischievous playmate, Hurricane Hattie O'Hara, who loves nothing more than to torment Brutus; and Gladys's mother, Ramona Gargle, who believes no man is good enough for her daughter, especially Brutus! "I strive to provide a quick daily smile for everyone who reads The Born Loser," said Sansom. "Brutus Thornapple is a contemporary Everyman, who suffers the daily slings and arrows we all encounter. Being able to laugh at Brutus's misfortune makes it easier for the rest of us to face ours."
History
Sansom is a graduate of Case Western Reserve University and a lifelong resident of Cleveland, Ohio. He and his wife, Brooke, have two daughters, Isabel and Jacqueline. In 1977, Sansom began apprenticing for his father on The Born Loser,, gradually assuming a greater role in the production of the strip, until completely taking over when Art passed away in 1991. The Born Loser, is a two-time winner of the National Cartoonist Society's Best Humor Strip of the Year Award and has been nominated four additional times. Chip and Art also collaborated on the creation and production of the comic strip Dusty Chaps in the early 1980s. Sansom and his family currently reside in a Cleveland suburb.
Meet the Cast of The Born Loser