Phoebe and Her Unicorn is the story of an unlikely friendship. Phoebe is a precocious child and Marigold is an arrogant unicorn, but their paths cross in the woods one day, and nothing will ever be the same. This is a comic about childhood, friendship, magic and humor.
Dana Simpson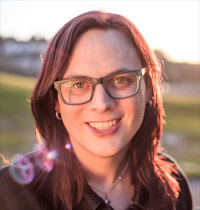 Dana Claire Simpson grew up in and around Seattle. She always liked drawing, and always liked comic strips. She drew her first one at age 5; it was called "Boo," and was about easily frightened, narcoleptic ghosts.
She kept drawing, and while attending The Evergreen State College, she was a finalist for the Scripps-Howard Charles M. Schulz College Cartoonist Award. During those years, she created one of the first web comic strips, "Ozy and Millie," which she would draw for 10 years, amassing a devoted cult following. She also worked as a freelance editorial cartoonist, her work appearing regularly in several newspapers and in the magazine Funny Times.
In 2009, she won the Amazon/Andrews McMeel Syndication Comic Strip Superstar Contest, which landed her a contract to develop what would become Phoebe and Her Unicorn for syndication.
She lives in Santa Barbara, CA, with her spouse and her cat.
Meet the Cast of Phoebe and Her Unicorn
Phoebe Phoebe's smart, but not very focused. She doesn't have very many friends. When she meets a unicorn in the woods and is granted a wish, she seizes the opportunity.


Marigold Marigold is a unicorn. She's the most beautiful creature in the neighborhood, and she knows it. When Phoebe wishes for Marigold to become her best friend, her life changes forever.


Dakota Dakota's the most popular girl at school, and Phoebe's biggest enemy. She's jealous of Phoebe's unicorn.


Max Max is Phoebe's friend, though getting Max's attention can be hard because he's usually playing video games.


Parents Phoebe's parents (Ethan and Emily) are pretty laid back. They're suburban thirtysomethings; he's a systems administrator and she's a painter. They're unfazed by Phoebe's unicorn friend.