Available for print / Web / mobile
At its heart, Pearls Before Swine is the comic strip tale of two friends: an arrogant Rat who thinks he knows it all and a slow-witted Pig who doesn't know any better. Together, this pair offers caustic commentary on humanity's quest for the unattainable. Dilbert cartoonist Scott Adams says that Pearls is "one of the few comics that make me laugh out loud."
The strip has won numerous industry awards.
Stephan Pastis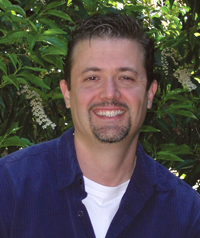 An unusual rat and pig take center stage in Pearls Before Swine, a quirky daily and Sunday comic strip by erstwhile litigator Stephan Pastis. Launched in 2002, the strip appears in 750 newspapers worldwide, including The Washington Post, Los Angeles Times, Philadelphia Inquirer, Atlanta Journal and Constitution, Chicago Sun-Times and Seattle Times.
Pearls Before Swine has a growing list of fans, including Dilbert cartoonist Scott Adams who says Pearls is "one of the few comics that make me laugh out loud." Pastis never had any formal training, but he did draw cartoons for each of his school newspapers as he grew up. He holds a degree in political science from the University of California at Berkeley. Although he always wanted to be a cartoonist, Pastis realized that the odds of syndication were slim, so he went to UCLA Law School and became an attorney instead. While at UCLA, he drew a popular strip called "Rosen." It was while was hopelessly bored in a class on the European Economic Community that Pastis first drew "Rat," a character that would reappear in every comic strip he created thereafter - including Pearls Before Swine.
Meet the Cast of Pearls Before Swine
Rat Arrogant, self-centered, fatalistic, philosophical and quick-tempered,Rat is obsessed with fame, immortality and making a quick buck. Spends his time with Pig because it makes him feel superior and,more importantly, no one else will hang out with him.


Pig Humble (in fact,painfully aware of his limitations), practical, kind and a little slow in the head, Pig has few aspirations in life, other than to spend his days watching TV and doing almost nothing productive. Apparently sees something redeeming in Rat, and is willing to endure Rat's endless barbs and numerous schemes. Kicked out of the Society of Cultured Pigs because he was caught eating a B.L.T.


Zebra The humanitarian (or, more accurately, "zebratarian"). Focused almost solely on devising ways to protect his fellow zebras on the plains from their numerous,more able predators. Must endure repeated failures in this endeavor, as the lions, tigers and crocodiles always win out.


Goat The smart one.Would rather spend his time with his snout in a book than talking to any of the other odd characters in this strip, but he none the less finds himself in the role of reluctant mentor.


Guard Duck Pig's loyal, but violent and unstable duck.He sits in a bunker on Pig's front lawn,defending the property against mailmen, girl scout sand offensive neighbors.