Available for print / Web / mobile
Discover the sensitive side of plundering and pillaging through the daily misadventures of this clever crew of shipboard malcontents, incompetents and laggards. Aided by their loyal canine companions and a well-organized army of mice, Captain Crow and his fierce band of pirates do battle on the high seas with rival pirates, sea monsters and sometimes each other. Come on in -- the water's warm!
Chip Dunham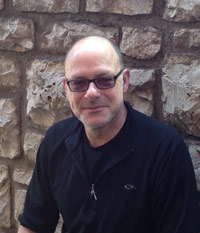 Chip Dunham is the creator of the comic strip Overboard. Set on a pirate ship, Overboard explores the sensitive side of plundering and pillaging through the daily misadventures of its clever crew of malcontents, incompetents and laggards. "After 20 years of drawing and writing Overboard, I still approach it with the energy of my first week of doing it," said Dunham. "It's the most fun job in the world, and I hope some of that feeling still jumps out at the reader. "
History
A Wisconsin native, Dunham started his cartooning career in his 20s with the Milwaukee Journal Sentinel and The New Yorker. Discouraged by the workload, Dunham halted cartooning and enrolled in the University of Wisconsin, graduating with a degree in journalism in 1980. Taking a hiatus from cartooning to explore careers in reporting and commercial painting, Dunham returned to cartooning in 1989, when he developed Overboard, which earned a "Best Comics Strip" nomination from the National Cartoonists Society. He now lives in Detroit with his dog Sam.
Meet the Cast of Overboard
Captain Crow Fearless leader of our merry band, Henry Crow tries to maintain discipline in the ranks with just the right blend of sure-handed management skills and willful ignorance.


Louie Louie dreams of hamburgers on the grill, the warm spot in Capt. Crow's chair, chasing squirrels and bedtime stories. Good dog!


Charley The littlest pirate can be the biggest trouble-maker. As the ship's menu-challenged chef, Charley matches wits with a growing number of intrepid rabbits who have designs on his whiskey-barrel garden.


Nate He may look rough and tough behind his grisly beard and gigantic size, but don't be fooled. Nate's heart is as big as he is.


Jonas After successfully negotiating a truce with Capt. Crow and his crew, Jonas and his industrious band of mice have settled right in on the pirate ship.

Ahoy, mateys! The gang at Overboard Inc. welcomes us aboard for a ride on the wackiest pirate ship to ever ply the seven seas. Chip Dunham's cast of misguided mercenaries stay busy fending off rivals and battling the occasional sea monster while the real masters of their universe -- a yellow lab named Louie and a population of overachieving rodents -- enjoy the contents of the fridge. For 20 years, readers have laughed at the antics of this desperate band of dysfunctional treasure hunters. Aaarrrr!