Available for print / Web / mobile
Readers of all ages love Luann, a strip about the trials of becoming a young adult. Known for its rich characters and intriguing "what will happen next" storylines, Luann enjoys a reader loyalty rare on the comic page, consistently ranking among the top five in reader surveys. Greg Evans was voted Outstanding Cartoonist of the Year in 2003 by the National Cartoonists Society, partly for his efforts in holding up Luann as a fine example of the positive power comic strips can have. "My aim is to touch readers' hearts as well as their funny bones," says Evans, who's humorously touched on serious issues such as peer pressure, drugs, alcohol and young love. "Adolescence is a very funny time -- except when you're in it."
Greg Evans and Karen Evans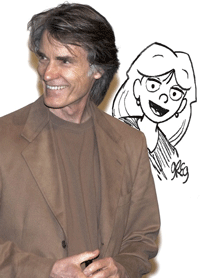 Greg Evans grew up near Disney Studios in Burbank, California. As a kid, he rode his bike to the gate, hoping Walt might need a 7-year-old animator. Oh well. Greg ended up getting a teaching credential from Cal State Northridge and taught high school art in El Centro, California, then, with his wife Betty, taught in Australia for two years. After a journey through Asia and the Middle East, they settled in Colorado Springs, Colorado, to begin a family. Greg worked as a cameraman and corporate promotions manager for KRDO TV/Radio. Missing his native California, Greg bought a robot -- no joke -- and the Evans family moved to San Diego, where Maxwel the Robot was hired to entertain at parties, conventions and fairs. Greg also began a mail-order comic business, selling school-themed strips to school newspapers. Since college, Greg had submitted comic strip ideas to syndicates, hoping to be as successful as his hero, Charles Schulz. Finally one day in 1984, inspiration struck as he watched his 6-year-old daughter Karen play dress-up. Greg immediately began writing a strip about an adventuresome, funny teen girl and this, at last, was the one that clicked; Luann debuted in 74 newspapers in 1985. Since then, the cast of characters has evolved and grown, becoming adventuresome, funny young adults. In 2003, Greg received the National Cartoonists Society Reuben Award for Outstanding Cartoonist of the Year. And in a perfect case of full-circle, Karen, the original Luann, is now helping her dad write the strip!
Meet the Cast of Luann
Luann This is me with my "I'm 16! What could go wrong?" face.


Brad My brother Brad shows us his "Dumb! Dumb! Dumb!" pose. (Frequent with him)


Toni The cause of Brad's dumbness: Toni Daytona.


Bernice My best bud Bernice trying not to be Miss Sarcastic Smarty-Pants


Delta My other best bud Delta with her "Can we act like adults now?" look.


Tiffany Tiffany Farrell doing her "I'm way hotter than thou" thing. Ugh.


Mom Here's my mom, going "You are NOT wearing THAT!"


Dad And my dad, wisely counseling, "Listen to your mother."


TJ When Brad's bud, TJ, gets this "Hey! I just had a GREAT idea!" look, run away.


Crystal Crystal, the goth chick. What's most bizarre about her? She hangs with…


Knute Knute. Here, doing his "Wha?" look. (Actually, this is his only look.)


Gunther Gunther, always a little too happy to see me…


Rosa …until he sees Rosa.