Available for print / Web / mobile
F Minus
, by Tony Carrillo, is a profoundly funny strip that begs the question, "Why are we here?" "What is life all about?" and "Can I take only one shower per week if it's seven times the normal length?"
F Minus
is a profoundly funny comic strip that was chosen by more than 200,000 college students as the winner of the "mtvU Strips" contest. Providing daily hilarity since May 2005,
F Minus
is a strip short on life lessons, precious moments, and pearls of wisdom. Instead, it tackles life's serious issues, pins them to the ground and steals their lunch money. Then it feels a little bit guilty and gives some of it back.
F Minus
was nominated by the National Cartoonist Society for the 2007 Reuben Award for Best Newspaper Panel.
Tony Carrillo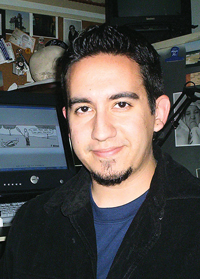 Tony Carrillo was born, raised, and seasoned in America's roasting pan, Arizona. He grew up drawing the cactus and scorpions, dreaming of one day becoming a great cartoonist. Over the years, Tony worked as a pizza cook, website designer, dancing costumed character, waiter, insurance drone, portrait artist, custom framer, camel ride attendant at the zoo, and the guy at the airport that waves orange wands at the planes. Yet nothing seemed to fit.
Finally, Tony got his first job as a cartoonist. After years of studying fine art and classical drawing, Tony resorted back to the simple, yet stupid doodles that used to get him in trouble in the third grade. His creation F Minus ran in his college paper, The State Press, during his final four semesters at Arizona State University.
In December of 2004, F Minus was named the winner of the MTVu Strips Contest, chosen by judges Scott Adams of Dilbert and David Rees of Get Your War On, as well as more than 200,000 online voters. Tony received a development deal with United Feature Syndicate. On April 17th, 2006, F Minus began worldwide syndication. In the first year of syndication, F Minus was nominated for a National Cartoonist Society division award: Best Newspaper Panel, and nominated again in the same category in 2009 and 2013. Two F Minus books are available, the first titled F Minus and the second, F Minus: This Can't Be Legal.
Tony lives with his family in Long Beach, California and dreams of one day becoming a great cartoonist.