A modern Everywoman, Cathy has endeared herself to millions of fans who share her daily struggles with the four basic guilt groups: Food, Love, Mother and Career. This comic page heroine blazed a trail for single working women and continues her pursuit of perfection against odds every woman can relate to. We read. We identify. We laugh. Aaack!
"Classics" for online and mobile only.
Cathy Guisewite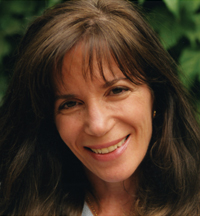 Cathy Guisewite is the creator of the comic strip Cathy, which debuted in newspapers in November 1976. The strip chronicles the trials, tribulations and inherent humor in the life of a typical American woman balancing a demanding career and nerve-wracking love life with well-meaning, yet very involved parents. When Guisewite ended the strip in 2010, it appeared in approximately 900 newspapers worldwide.
Guisewite is the recipient of numerous awards, including the prestigious Reuben Award for "Outstanding Cartoonist of the Year" from the National Cartoonists Society in 1993. The strip has also been nominated for "Best Comic Strip" several times. In 1987, Guisewite received an Emmy for "Outstanding Animated Program" for her first animated special, "Cathy," which aired on CBS. Two more animated specials have been broadcast in the U.S., "Cathy's Last Resort" and "Cathy's Valentine," both receiving high acclaim from critics. Guisewite has received several honorary degrees as well.
Guisewite sat on the 2006 Board of Judges for the Talbots Charitable Foundation Women's Scholarship Fund. In 2005, her online gift wedding registry for comic characters Cathy and Irving raised $25,000 for the Pet Orphans of Southern California, an organization where she and her daughter volunteer. In 2001, Guisewite was presented a Genesis Award from the Ark Trust Foundation for her comic strips promoting animal issues such as anti-fur usage and adoption of older animals from shelters.
Born in Dayton, Ohio, Guisewite attended the University of Michigan in Ann Arbor and received a B.A. in English in 1972. After graduating, she went into advertising as a writer for Campbell-Ewald Advertising (1972-73) and Norman Prady Ltd. (1973-74). As a vice president, she left W.B. Doner & Co. Advertising in 1977.
Cathy is a member of the National Cartoonists Society. She is included in Who's Who in America, Who's Who of American Women, Who's Who in American Journalism and The International Authors' and Writers' Who's Who.
Cathy is currently a resident of Los Angeles, where she lives with her daughter.
Meet the Cast of Cathy Classics
Cathy Cathy debuted on the comic pages in 1976 as the heroine of single working women and became an overnight sensation. Now married and still working, she balances the demands of her job, her husband, her parents and her pampered pets while never missing a shoe sale. Her trials and tribulations provide a delightfully funny, yet honest look at the life of today's career woman.


Irving Cathy's long-time on-again-off-again boyfriend finally popped the question in 2005 and made the trip down the aisle with Cathy. Their wedded bliss is only occasionally interrupted by Irving's obsessions with electronic gadgets and golf.


Mom and Dad Cathy has a complex relationship with her well-meaning mother that is a rich tangle of love, anxiety, togetherness, rebellion, devotion, frustration, friendship and hysteria. And although her father says much less, he fills the critical role of helping Cathy keep her sense of humor about Mom.