Dip your toes into Brainwaves and let Betsy Streeter's stream-of-consciousness cartoon panel wash away your anxieties with its cool, clear insights and unabashed enjoyment of our irony-enhanced world. Streeter savors the absurd differences between what we do and what we think we do, and daily notes the deliciously strange juxtapositions that save our sanity. Whether her bemused humans find themselves in the clothing store, the cubicle, the doctor's office or a traffic jam, there's always an epiphany at hand. A veteran cartoonist whose drawings have appeared in Funny Times, The New Breed, and numerous magazines, newsletters and textbooks, Streeter describes her work as being about working, driving, hunting and gathering, impressing our friends, and the like.
As long as there's laughter somewhere, she notes, we're all going to make it.
Betsy Streeter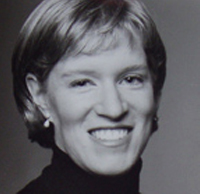 For over a decade Betsy Streeter's single-panel cartoons have been published internationally in magazines, newsletters, business presentations, academic papers, and books -- published, as she puts it, "by everyone from Oxford University Press to the University of Wollongong". Brainwaves often appears in Funny Times, and began its run as a regular feature in the Daily Press in Hampton Roads, Virginia. It came to ComicsSherpa.com in 2003, and was signed for online syndication by Andrews McMeel Syndication in May 2005. She lives with her husband and two children in Northern California's Bay Area.
Meet the Cast of Brainwaves
Brainwaves is a window into Betsy Streeter's world. Her elegant line work has a way of capturing the essence of a joke, and her writing is sharp and hilarious. It's a deceptively simple comic, with laughs a-plenty and a lot to say. For a quick pick-me-up, you can't go wrong with this comic.