Available for print / Web / mobile
Alley Oop, the classic caveman comic strip created in 1933 by V.T. Hamlin, is drawn by Jack Bender and written by Carole Bender. The strip revolves around the irrepressible Alley Oop, who travels from prehistoric Moo all the way to the 21st century in his friend Doc Wonmug's time machine. Other favorite regulars in the strip include King Guz and Queen Umpa of Moo, Wonmug's assistants Oscar and Ava, and Alley Oop's girlfriend Ooola. V.T. Hamlin worked on Alley Oop for 40 years.
Jack and Carole Bender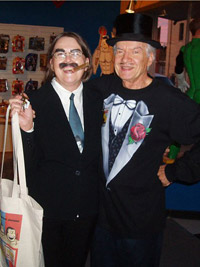 V. T. Hamlin trabajó en Trucutu por 40 años. Hamlin contrató al escritor Dave Graue para que lo ayudara en 1950 y Graue continuó escribiendo para la tira hasta 2001. Jack Bender se unió a Graue como artista ayudante en 1990, y se convirtió en el artista de tiempo completo de Trucutu un año más tarde. En 2001, al retirarse Graue, Carole Bender comenzó a escribir la tira. Como Hamlin, Jack Bender es nativo de Iowa y ex alumno de la Universidad de Misuri. Bender fue caricaturista editorial del Waterloo (Iowa) Courier durante 20 años. Carole Bender ha sido la letrista y ayudante general en Trucutu desde 1992. Es una graduada de la Universidad Estatal de Oklahoma. Jack y Carole están casados y viven en Tulsa, Oklahoma.


Meet the Cast of Alley Oop
Alley Oop Alley is an upbeat, irrepressible caveman who travels from prehistoric Moo all the way to the 21st Century in his friend's time machine. He is brave, inventive, good-hearted and always happy to be home after an adventure. When not traveling through time, Alley gets around Moo on Dinny the Dinosaur and spends time with his girlfriend, Ooola, along with his other friends.


Ooola Alley Oop's uncommonly beautiful girlfriend. Ooola is sweet and smart and puts up with Alley's wanderlust and adventurous spirit with kindness and understanding.


Foozy Foozy (the Moovian Confusius) is Alley Oop's good friend. He is decent and loyal and speaks in rhyme. . . all the time! Alley's true pal in any locale.


King Guz The King of Moo. His majesty is a good guy at heart but can be a bit underhanded when he feels it's required. King Guz is the kind of person who wants to be the hero, but not do any of the work. Not the smartest ruler, he often turns to Alley Oop for advice.


Queen Umpa Umpa (short for Umpateedle) is the other half of the royal couple. She is a patient, loving wife to King Guz, and can be counted on to deliver an occasional zinger. Umpa has a steadier head on her shoulders than her husband and little better idea of what's going on most of the time.


Wizer The Grand Wizer is the medicine man of Moo. Quite knowledgeable in his field, Wizer is the man to consult if you happen to encounter a club to the head or a dinosaur on the foot.


Doc Wonmug Doctor Elbert Wonmug (the comic world equivalent of Albert Einstein) is the head of the time travel laboratory. He also bears a striking resemblance to Moo's Grand Wizer!


Oscar Boom G. Oscar Boom (G.O. Boom) is an explosives expert who has gone from evil scientist to good guy invaluable assistant at the time lab and back to a man who finds it impossible to resist his temptation when it comes to wealth and power.


Dinny Alley Oop's loyal dinosaur friend and transportation. Their friendship was cemented when Oop rescued Dinny from a tangle of vines.