Available for print / Web / mobile
Welcome to the new way to work -- home-office humor straight from Rob Harrell. Follow this hilarious yet true-to-life work-at-home dad, Adam, as he deals with job deadlines, mini van support groups, sibling arguments and marital bliss while chasing down overnight delivery trucks and searching for the perfect latte.
Rob Harrell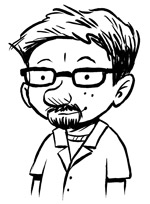 Rob Harrell writes and draws the long-running daily strip Adam@Home, which appears in more than 140 papers worldwide. He also created, wrote and drew the syndicated daily comic strip Big Top from 2002 through 2007. A Big Top collection was published in 2005 by Andrews McMeel Publishing.
In July, Harrell's first graphic novel, Monster on the Hill, will be released by Top Shelf Productions. It is a 183-page full-color story about a down-on-his-luck 1800s English monster.
He is signing a deal with Penguin Kids books to write and draw a series of middle grade books, which should debut in 2015.
As a freelance illustrator, he has worked with clients including Mad, Simon and Schuster, American Greetings, Time, Inc. and Volkswagen.
Harrell's figurative paintings have been shown around the country, including solo shows in San Francisco, Austin and Indianapolis.
He currently lives in Austin, Texas with his wife, Amber, and their two dogs.
Meet the Cast of Adam@Home
Adam Adam Newman is a work-from-home dad. When he's not attempting to head off his children's schemes or answering their life questions, you can usually find him at the coffee shop or on the computer (his other great loves).


Laura Laura is Adam's wife. She works at a bookstore. Laura is the force that keeps Adam and the rest of the family grounded.


Clayton, Katy and Nick Adam and Laura's children. Clayton and Katy are in elementary school. They often team up to devise ideas to test their parents' boundaries. Nick is the baby of the family.

For more than 25 years Adam@Home has been a fixture in newspapers, providing a comedic portrait of Adam Newman, a man of the times whose endearing experiences in life mirror our own.
Adam's decision to leave the rat race of corporate life for the freedom (and uncertainty) of self-employment was a pioneering decision that has since become a trend in the contemporary workforce. Supported by his wife, Laura, who herself works outside the home, Adam has weathered the ups and downs of the New Economy with oafish grace and subtle wit.
Though the Computer Age helped make his career transition possible, Adam's grasp of technology remains tenuous at best, and it's often his computer that has the upper hand. Luckily, Adam's endless pursuit of the perfect latte provides a temporary escape from his vital nemesis.
As a stay-at-home dad, Adam also has a front-row seat in the lives of his three children, Clayton, Katy and baby Nick. And much to the kids' adolescent embarrassment, Adam has eagerly accepted the roles of carpool driver, field-trip chaperone and boy-band devotee.
The perpetual struggle for work-life balance is as familiar to readers as their own alarm clocks. With Adam@Home, people will find a lighthearted reflection of life that may tip that scale in their favor.