A fantastic saga of adventure both high and low, of forbidden passion and iambic pentameter, of fays, fools, organists, demons, accordions, heaven, hell and Shakespeare, Pibgorn follows the whims and flights of its eponymous fairy heroine as she plies her conviction that there must be more to life than depositing dew drops on dandelions and sleeping under mushrooms.
Brooke McEldowney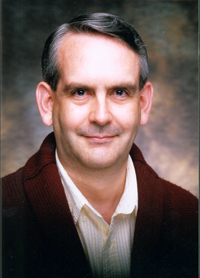 Brooke McEldowney, standing at six feet and eight inches tall, is an artist through and through. He is the creator of the comic strips 9 Chickweed Lane and Pibgorn, as well as a professional musician. 9 Chickweed Lane spotlights music and dance with superb artistry that complements McEldowney's strong-minded characters. This year will be the twentieth anniversary for the strip. Pibgorn is a magical tale of fairies, love and high adventure.
History Originally from Charleston, W.V., McEldowney followed his musical talents to The Juilliard School in New York. After creating his comic strip 9 Chickweed Lane, he received the National Cartoonist Society award for Best Newspaper Comic Strip in 2005. McEldowney now lives in Kennebunk, Maine.
Meet the Cast of Pibgorn
Pibgorn A fairy with a good heart and a keen mind.


Drusilla A succubus who has picked up some friends, but never gave up her wicked ways.


Geof The sometimes object of Dru and Pib's affections.

Pibgorn is a high-flying romp into a magical world. There are fairies. Lots of different sorts of fairies. There are also demons, humans and talking animals. There's music and love and sacrifice. Sometimes there's fighting. There's always vibrant art, excellent writing, and an ongoing story that will get you hooked and keep you reading.
published: Monday, June 13, 2022