Available for print / Web / mobile
"Moderately Confused is an extension of my daily thinking routine", says Jeff Stahler. "I'm used to observing the front pages of the news and commenting with a cartoon. But every day, the rest of the paper tracks the culture, and all of those stories are rich for commentary, too. This panel gives me an outlet for observing those back pages of the paper that I enjoy reading as well."
Stahler's Moderately Confused was a finalist for the National Cartoonists Society's Division Award for Best Newspaper Panel in 2005.
Jeff Stahler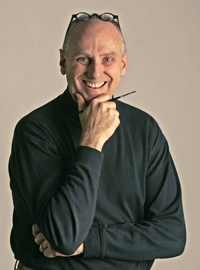 A native of Bellefontaine, Ohio, award-winning editorial cartoonist Jeff Stahler graduated from the Columbus College of Art and Design. He resides in Columbus, Ohio, with his family.
Meet the Cast of Moderately Confused