Pairing vintage comic art with hilarious, new dialog by Disney veteran writer John Lustig, Last Kiss revels in the absurdities of love, lust and life with lip. The series originated when Lustig bought the publishing rights to a romance comic book series from the 50's and 60's, and started rewriting the stories for fun. Since then, the re-dialogued comics have been a popular feature in newspapers, magazines, comic books and greeting cards. Today Last Kiss is gaining popularity and is also available on email cards from Jib Jab and greeting cards from NobleWorks. Check www.lastkissinc.com for the latest news and product launches.
John Lustig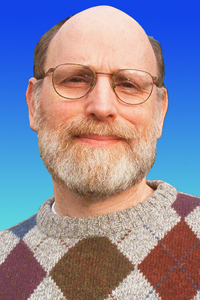 A top Disney creator for over 20 years, John Lustig has also written outrageously silly comics for Marvel, Viz and more. He is best-known for his oddball series, Last Kiss, which features old comic book art with witty new dialog. Before comics ruined his brain, Lustig was a newspaper reporter and columnist--covering everything from mass murders to school lunch menus. (Thankfully, never in the same article!) In 2001, Cartoonist Northwest presented Lustig with its highest award, the Golden Toonie for lifetime achievements. Lustig lives in Seattle with his wife and a giant, insane cat.
Meet the Cast of Last Kiss
Last Kiss breathes new life into vintage art with lust, laughs and John Lustig's deft dialog. See everything you've ever thought about a bad relationship come to life on the page, and bask in the sexy, saucy banter of people in (foolish) love. Thrill to the vibrant color of yesteryear and the wit of tomorrow! It's truly a comic for people who appreciate outrageous romance and cheeky humor.