Available for print / Web / mobile
At the center of this warm and fuzzy romp is Rob Wilco, a single, mild-mannered ad executive and guardian of anthropomorphic scamps Bucky and Satchel. Bucky is a temperamental cat who clearly wears the pants in this eccentric household. Satchel is a gentle pooch who tries to remain neutral, but frequently ends up on the receiving end of Bucky's mischief. Together, this unlikely trio endures all the trials and tribulations of a typical family... more or less.

Get Fuzzy won the National Cartoonists Society Award for Best Newspaper Strip of 2002.
Darby Conley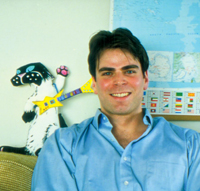 Born in Massachusetts, Darby Conley spent most of his childhood in Tennessee. He earned a Fine Arts degree at Amherst College, and went on to become an elementary school teacher and the art director for a museum before launching Get Fuzzy in 1999.
Meet the Cast of Get Fuzzy
Bucky Katt Like most cats, Bucky is ill-tempered, selfish and prone to curious fixations. Unlike most cats, he can talk and spends much of his time devising ways to increase his power over his owner and the world at large. Wait, that second part is like most cats, too.


Satchel Pooch: A good-natured gourmand, Satchel acts as a (confused) sidekick in Bucky's outlandish schemes. When not occupied trying to keep the peace, Satchel keeps busy by eating various things to see if they're food.


Rob Wilco The putative "owner" of Bucky and Satchel, Rob works in advertising to pay the bills, which are often extensive when you're taking care of a sociopathic cat and a dog who eats a lot.


Mac Manx McManx A distant relative of Bucky's from the U.K., Mac shows up from time to time, confusing everyone with his bizarre foreign slang. He likes soccer, that's about the only thing we know for sure.