Available for print / Web / mobile
Ted Rall writes for a generation unjustly maligned as a pack of lazy slackers. He voices Generation X's frustration and resentment at the excesses of baby boomers who left a wheezing America in their mammoth wake. Ted's irreverent attitude and deft use of satire combine to make his work thought-provoking and enjoyable to read. Ted's ability to connect with current culture gives his work a fresh, informed perspective.
Ted Rall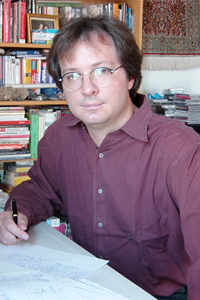 Ted Rall was born in Cambridge, Mass., in 1963, raised in Kettering, Ohio, and graduated from Fairmont West High School in 1981. His first cartoons were published in the Kettering-Oakwood (OH) Times. He majored in physics at Columbia University's School of Engineering from 1981 until 1984, where he drew cartoons for the Columbia Daily Spectator, Barnard Bulletin and The Jester humor magazine. He was expelled in 1984, between his junior and senior years, for academic and disciplinary reasons.
Inspired after meeting pop artist Keith Haring in a Manhattan subway station in 1986, Rall began posting his cartoons on New York City streets. He eventually picked up 12 small clients, including NY Weekly and a poetry review in Halifax, Nova Scotia, through self-syndication. In 1990, he returned to Columbia University to resume his studies, from which he graduated with a bachelor of arts with honors in history in 1991. (His honors thesis was about American plans to occupy France as an enemy power at the end of World War II.) Later that year, Rall's cartoons were signed for national syndication by San Francisco Chronicle Features, which is no longer in business. He moved to Universal Press Syndicate in 1996.
Rall considers himself a neo-traditionalist who uses a unique drawing style to revive the aggressive approach of Thomas Nast, who viewed editorial cartoons as a vehicle for change. His focus is on issues important to ordinary working people—he keeps a sign asking "What do actual people care about?" above his drafting table—such as un- and underemployment, the environment and popular culture, but also comments on political and social trends.
A past president of the Association of American Editorial Cartoonists, Rall is a two-time winner of the Robert F. Kennedy Journalism Award and a Pulitzer Prize finalist. He lives in New York.
Meet the Cast of Ted Rall