Available for print / Web / mobile
A unique hybrid of editorial and comic strip cartooning, Tom the Dancing Bug tackles a wide range of subject matter, including political and social commentary. The cartoon has won critical raves -- Rolling Stone magazine named it Hot Comic Strip of the Year, and Details magazine called it a rarity among alternative weekly comic strips: well-drawn, laugh-out-loud funny. Tom the Dancing Bug won the Association of Alternative Newspapers Award for Best Cartoon in alternative newspapers in 2002 2003, 2007, 2008 and 2009. It has also been nominated for a Harvey Award for Best Comic Strip.
Ruben Bolling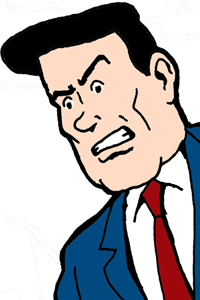 Ruben Bolling is the cartoonist behind the acclaimed comic strip Tom the Dancing Bug. A unique hybrid of editorial and comic strip cartooning, Tom the Dancing Bug tackles a wide range of subject matter, including political and social commentary.
History
Bolling started Tom the Dancing Bug while a student at Harvard Law School, from which he graduated in 1987. He launched the strip professionally in a small New York City newspaper in 1990 and was self-syndicated until Universal Press Syndicate (now Andrews McMeel Syndication) signed him in June 1997. Tom the Dancing Bug's client list includes a diverse array of newspapers, representing the breadth of contemporary journalism. The thought-provoking comic panel also appears weekly in Boing Boing, a popular humor and social commentary Web site. The cartoon has had much success, winning critical raves -- Rolling Stone magazine named it "Hot Comic Strip of the Year." Tom the Dancing Bug received the Association of Alternative Newsweeklies Best Cartoon Award five times. It is also the winner of the Society of Professional Journalists Award for Editorial Cartooning and is a Harvey Award nominee for Best Comics Strip. Bolling lives and works in New York City with his wife and three children.
Meet the Cast of Tom the Dancing Bug
God-Man God-Man! Easily the universe's most omnipotent superhero, God-Man is blessed with the Almighty Creator's awesome powers, but unlike the Big Guy, God-Man isn't bogged down by some silly book full of arcane rules and regulations ... and that's why God-Man gets results!


Louis Maltby Suburban teen Louis Maltby lives small and dreams big. His passive-aggressive methods will frustrate and enlighten all who encounter his beige ways.


Charley Charley is an australopithecine — a less-developed hominid from the pliocene epoch. Please note that he is very different from us humans and his antics will not teach us anything about our primal motivations.


Lucky Ducky Lucky Ducky represents the poor, the tired and the feathered masses. He's been stepped on, chewed up, spit out and partially digested. Yet, like so many of our great citizens, he's got a can-do attitude and a willingness to work hard. This infuriates his wealthy-banker-industrialist nemesis, Hollingsworth Hound (HH). HH believes that Lucky scams the system and takes advantage of his struggling status to take money directly from HH's pocket. Some might go so far as to characterize HH as an out-of-touch filthy-rich republican.


Billy Dare: Boy Adventurer Yes, he's a boy adventurer but he's also more than that. Renowned for his bravery and his ability to bend a cinema or TV genre at the drop of a fedora, Billy Dare will touch your heart and your thalamus. Although Billy is similar in appearance to Tintin, Mr. Bolling is not currently planning any legal action against the Herge estate.


Bob Bob is an average male. If anyone ever cared to look, they would find many packets of Carnation Strawberry-Flavored Instant Breakfast (just add milk) in his office desk drawer, but they never do.


Sam Roland: The Detective Who Dies Listen here, kewpie doll, when hard-boiled private investigator Sam Roland is on the case you can be sure of two things: 1) He wants his fee upfront and 2) He's going to die.


Two-Fisted Justice of Judge Scalia The Two-Fisted Justice of Judge Antonin Scalia is a ridiculously over-the-top cartoon version of everybody's favorite U.S. Supreme Court Justice, Antonin Scalia. OR IS IT?


Nate the Neoconservative Nate the Neoconservative is a neoconservative who refuses to admit his mistakes. Which is why he's called a "Neoconservative."


Harvey Richards, Lawyer for Children Harvey Richards Esq., Lawyer for Children isn't the first lawyer for children, but darnit he may just be the best. He'll stand up for you when a bully or an power-mad 4th grade science teacher keeps you down.


The Ghost of James Caan How does a legendary and very much alive actor have a ghost? Logic goes out the window (and through the walls!) when the Ghost of James Caan visits your local comics section!


Uncle Cap'n Uncle Cap'n's Puzzle Section has been gracing newspaper Sunday pages since 1917. Uncle Cap'n has had an unquenchable appetite for whiskey and controlled substances since 1939.


Doug Doug is an indeterminate anthropomorphic character created to cash in on licensing and paid appearances at minor league baseball games.


Dinkle: The Unloveable Loser Finally, a character we can all agree to loathe. He's Dinkle, a misanthropic hate monger whose temper tantrums, bad judgment and me-first attitude have helped him to recently have been named the first-ever mascot/spokescomic for the NBA Players Association.

If there's a smarter comics writer than Ruben Bolling out there, I haven't met him and/or her. Ruben's gift for the ridiculous and the poignant mark him among the elite of today's social, cultural and political cartoonists/commentators.
Because once you've read an episode featuring Harvey Richards: Lawyer for Children, God-Man or a volume of Super Fun Pak Comix you'll wonder why Ruben hasn't won the Nobel Prize, much less the Pulitzer.