Available for print / Web / mobile
For a family strip with bite, you can't do better than The Grizzwells by Bill Schorr. Syndicated by Newspaper Enterprise Association since 1987, the strip features a four-bear family of grizzlies. In creating The Grizzwells, Schorr wanted to do a simple family-oriented strip: "Since human characters dominate most of my editorial cartoons, I didn't want to draw them in my strip as well. My younger daughter has been collecting bears forever and she thought bears would be perfect subject matter."
Bill Schorr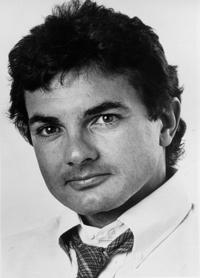 Bill Schorr began his career as an editorial cartoonist for the Kansas City Star. He then spent several years with the Los Angeles Herald Examiner before returning again to the Star. He was staff editorial cartoonist at the New York Daily News from 1997 to 2001. Born in New York City, Schorr grew up in Albuquerque, N.M., and Riverside, Calif.


Meet the Cast of The Grizzwells
Gunther Grizzwell Husband, father, slacker and ransacker. A real bear's bear with an appetite for just about anything that moves (though he rarely does himself). Gunther is the leader of the pack, such as it is, and he spends most of his days tolerating his incessantly annoying sidekick, Pierpoint ... probably because finding another sidekick would be way too much trouble.


Pierpoint Gunther's annoying sidekick is a ball of confusion, a boatload of woes, a mass of paranoia and a bowl chock-full of endless, mindless chatter. He's a naturally curious creature who doesn't seem to realize that he's constantly tempting fate with his ramblings.


Flora Grizzwell The original mama grizzly, Flora is Gunther's loving, patient, understanding, caring wife ... and the one creature he fears!


Tucker Grizzwell Not exactly fierce grizzly material yet, think of Tucker as an "intimidator-in-training." His idea of searching for game is finding the next big Superduper Nintendo. Tucker doesn't mind tramping through the landfill with his dad, as long as he doesn't get all yucky and gross.


Fauna Grizzwell Fauna's like, you know, totally locked into pop culture and sick fashions and music and you know, stuff.


Warren This self-possessed, self-absorbed, self-related, self-styled "ladies man" never met a girl he didn't like to talk to about himself. Warren is fountain of not-too-helpful romantic advice for hapless Pierpoint.


Jasmine The beautiful object of Pierpoint's wasted desire, Jasmine has never met a heart she didn't want to break. She secretly enjoys crushing Pierpoint's futile attempts at the fine art of flirtation.