Available for print / Web / mobile
Celebrate the absurdity in big-time athletics through the eyes of the comic pages' favorite sportscaster, Tank McNamara. Jeff Millar takes the sports world to task with his hilarious lampoons of the latest sports headlines and the ever-popular Sports Jerk of the Year contest.
Bill Hinds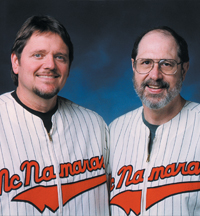 Bill Hinds has successfully merged the sports and comics worlds, in his career as a cartoonist. Hinds is the co-creator, with the late Jeff Millar, of the comic strip TANK MCNAMARA, which provides sizzling satire of the absurdities in big-time athletics and has been running steadily in more than 300 papers since 1975.
Interests
Outside of cartooning, Hinds enjoys playing tennis and spending time with his wife and three children. He also is a big supporter of the U.S. military troops and their many sacrifices. He toured Iraq with other cartoonists in 2010 as a way to show his support and gratitude for their service.
History
Hinds was born in Houston, Texas, on San Jacinto Day, April 21, 1950. He graduated with a degree in fine arts from Stephen F. Austin State University and has served on the board of both the National Cartoonists Society and the Newspaper Features Council.
Hinds met Jeff Millar in 1973 when Millar — who once said he couldn't even draw stick figures — went out looking for a collaborator for an adult-oriented comic strip about sports. TANK MCNAMARA began syndication through Universal Press Syndicate in August 1974. The strip is beloved by sports fans and has attracts thousands of nominations from readers each year for its annual Sports Jerk of the Year competition. In 1987, Tank was named Sports Cartoon of the Year by the National Cartoonists Society.
Hinds also writes and draws the popular cartoon feature Buzz Beamer for the magazine Sports Illustrated for Kids. In 2001, he won the New Media division award at the National Cartoonists Society's Reuben Awards for his online work with Buzz Beamer. From 2001 to 2010, Hinds also wrote and illustrated the comic strip Cleats, which focused on the complex world of competition and camaraderie from the perspective of kids, parents and coaches. Hinds and his family currently live in Spring, Texas, a suburb of his hometown.
Meet the Cast of Tank McNamara
Tank McNamara A former professional football player who played college ball at Enormous State University, TV sportscaster Tank McNamara reports on the breaking sports stories of the day: the hot players and angry coaches, the pending lawsuits and drawn-out strikes, the constant roar and ever-increasing hype that make organized sports one of the world's most lucrative businesses.