Available for print / Web / mobile
Monty spoofs suburbia, trashes tacky TV shows and offers absurdist commentary on everything from hosing down spider monkeys to the latest conspiracy theory. "I've tried to create the comic strip equivalent of 'Monty Python's Flying Circus,'" says Jim Meddick. "The name 'Monty' is a nod to the influence that show had on my humor. In my cartoon, just about anything can happen - this way, the ideas and characters always stay fresh."
Monty won the 2008 National Cartoonists Society's Award for Best Newspaper Strip.
Jim Meddick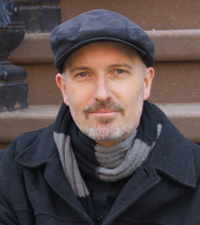 Jim Meddick is the creator of the comic strip Monty. The comic spoofs suburbia, trashes tacky TV shows and offers absurdist commentary on everything from hosing down spider monkeys to the latest conspiracy theory. "I try to develop unconventional storylines, characters and situations to surprise my readers and keep them interested in plot twists," said Meddick. "I also work in themes like sci-fi and horror that don't often appear in newspaper comics."
History
Meddick originally dreamed of becoming a scientist until his mother pulled him aside and explained that scientists usually were good at math. From then on he focused on plan B: cartooning. His first taste of fame came in high school, when his comics ran in the school paper, and he continued creating strips for his college paper at Washington University in St. Louis, Mo. After graduating, Meddick worked as a Newspaper Enterprise Association political cartoonist until the launch of his comic strip, Robotman, in 2005. The feature evolved from a sentimental portrait of a boy and his pet robot into its current form as Monty., which won the Reuben Award for Best Newspaper Comic Strip in 2007. Meddick lives in New England with his wife and son (a Garfield fan).
Meet the Cast of Monty
Monty Debonair, witty, worldly, bold, courageous, fluent in seven languages, naturally athletic, a man of action… These traits have nothing to do with Monty, but he is the northern New Jersey "Yahtzee" champion.


Moondog and Pilsner Moondog is Monty's old pal from college. Moondog's goal is to get through life expending the least amount of effort and sampling as many microbrews as is feasible along the way. Pilsner is Moondog's parakeet. Despite his name, Pilsner has no interest in beer, but he has been known to go on a sunflower seed bender from time to time.


Gretchen Gretch works at a nearby coffee shop and occasionally hangs out with Monty and Moondog after work. "Occasionally" = whenever she can't come up with a plausible excuse (tedious errands, jury duty, DVR catch-up night, endodontic appointment, etc.).


Fleshy Fleshy is Monty's hairless cat. He has yet to catch a mouse or a squirrel, but he once almost got a mole in a rear naked choke.


Professor Xemit and EB-3 Professor Xemit is a temporal field historian from the 26th century and EB-3 is his robotic assistant. The professor is here collecting data on Monty for a research paper: "21st Century Hermeneutics, Structuralism and the Impact of Artificial Cheese Spreads."


Sedgwick Nuttingham III and Jarvis Sedgwick is a young, enterprising one-percenter and Jarvis is his faithful manservant. Sedgwick is currently investigating ways to outsource his participation in an after-school Zumba program.