Little Otto is a typical 5-year-old boy. (Be afraid. Be very afraid.) His friends include Karen (the superior female), Clyde (not the sharpest crayon in the box), Madison (the Uber Nerd), and Raggs (the Wonder Dog). Together they share all the wonder and joy and frustration and cooties and swellness of a little boy's world.
Scott Nickel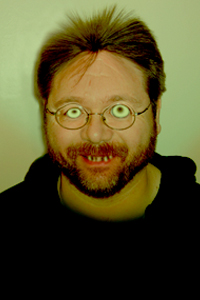 Scott writes and draws the comic strip EEK! syndicated by Andrews McMeel Syndication on GoComics. For nearly two-and-a-half years, Scott produced "Triple Take" with Todd Clark, which was syndicated worldwide by King Features and ran from April 4, 2005 to August 26, 2007.
By day, Scott works as a writer/editor at Paws, Inc., Jim Davis' creative studio in Indiana. In between Garfield and the strips, he manages to squeeze in humorous greeting cards for companies like American Greetings and Recycled Cards, award-winning children's books, cartoons for publications like MAD, Nickelodeon, Reader's Digest and Playboy, and an occasional nap.
Meet the Cast of Little Otto
Little Otto Just a typical 5-year-old boy.


Karen The girl in the group.


Clyde Not that bright.


Madison Ubernerd.


Raggs Wonder dog!

Little Otto is a very cute strip about a very cute boy and his very cute friends. It's a charming meditation on childhood, with the well-remembered challenges of dealing with a mischievous dog, bargaining with parents, and having adventures.