Available for print / Web / mobile
Arlo and Janis is a strip about a couple of '60s kids trying to keep a youthful outlook on life as they enter middle age. A warm, offbeat family comedy with an adult perspective, Arlo and Janis has earned a loyal following of married couples, working parents and people who enjoy Johnson's dry, incisive wit.
Jimmy Johnson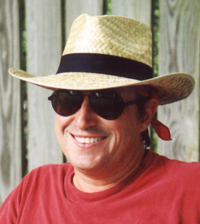 An Alabama native born in the last days of the Truman administration, Johnson studied journalism at Auburn University and worked as a newspaperman and editorial cartoonist. His editorial cartooning for The Jackson (Miss.) Daily News was honored by the Robert F. Kennedy Journalism Awards. His original comic strips were the focus of a groundbreaking art exhibit at The Bryant Galleries in Jackson, Miss. Johnson works out of his spare bedroom and lives and sails his boat, Willie and Joe, in the Tennessee River Valley.
Meet the Cast of Arlo and Janis