Available for print / Web / mobile
What else can be said about the world's most famous -- er, not to mention fattest and laziest -- cat? He's just a wise-cracking, nap-taking, coffee-guzzling, lasagna-loving, Monday-hating, dog-punting, spider-whacking, mailman-mauling fat feline. And he's the most beloved strip in the world, read in more than 2,400 newspapers, with a readership of 200 million.
Jim Davis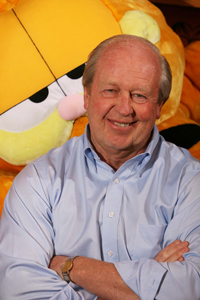 Cartoonist, Author, Producer, Director, President, Founder, Screenwriter, Environmentalist, Philanthropist — all these titles can be used to describe Jim Davis, best-known as the creator of Garfield.
He was born July 28, 1945 in Marion, Ind., and raised on a small farm with his parents, James and Betty Davis, and his younger brother, Dave (Doc). Like most farms, the barnyard had its share of stray cats; about 25 at one time, by Jim's estimation. As a child, he suffered serious bouts with asthma and was often bedridden. Forced inside, away from regular farm chores, he whiled away the hours drawing pictures.
In college, he studied art and business before going to work for Tumbleweeds creator Tom Ryan. There, he learned the skills and discipline necessary to become a syndicated cartoonist and began his own strip, Gnorm Gnat. When he tried to sell the strip to a newspaper syndicate he was told, "It's funny, but bugs? Who can relate to a bug?" After five years of Gnorm, Davis crushed the bug strip idea and tried a new tact, studying the comics pages closely. He noticed there were a lot of successful strips about dogs, but none about cats! Combining his wry wit with the art skills he had honed since childhood, Garfield, a fat, lazy, lasagna-loving, cynical cat was born. Davis says Garfield is a composite of all the cats he remembered from his childhood, rolled into one feisty orange fur ball. Garfield was named after his grandfather, James Garfield Davis.
The strip debuted on June 19, 1978 in 41 U.S. newspapers. Several months after the launch, the Chicago Sun-Times cancelled Garfield. Over 1300 angry readers demanded that Garfield be reinstated. It was, and the rest, as they say, is history. Today, Garfield is read in over 2,400 newspapers by 200 million people. Guinness World Records, named Garfield "The Most Widely Syndicated Comic Strip in the World." Davis's peers at the National Cartoonist Society honored him with Best Humor Strip (1981 and 1985), the Elzie Segar Award (1990), and the coveted Reuben Award (1990), the top award presented to a cartoonist by NCS members.
Garfield quickly became a sensation in the licensing world, too, inspiring Davis to establish his own company to take care of Garfield business concerns. Paws, Inc., founded in 1981, manages the worldwide rights for the famous fat cat, and Davis serves as President of the Indiana-based business.
Garfield's comic strip fame also spilled over to television and Davis penned eleven primetime specials for CBS-TV. He received ten Emmy nominations and four Emmy Awards for Outstanding Animated Program. Movies were next, and Twentieth Century Fox turned out two feature films: "Garfield: The Movie" ('04), and "Garfield: A Tail of Two Kitties" ('06). Davis also wrote the original screenplays and served as executive producer for three animated features for DVD: "Garfield Gets Real" ('07), "Garfield's Fun Fest" ('08), and "Garfield's Pet Force" ('09).
Davis's philanthropy has been directed at educational and environmental projects. He founded The Professor Garfield Foundation in cooperation with Ball State University, to support children's literacy. A free educational Web site (www.professorgarfield.org) is the cornerstone of the Foundation's work to date. He has underwritten a number of environmental projects in his home state. Davis spearheaded reforestation, prairie and wetlands restorations, and built the world's first all natural wastewater plant for commercial use. He was awarded the National Arbor Day Foundation's Good Steward and Special Projects Award, and the Indiana Wildlife Federations' Conservationist of the Year Award.
Davis was honored with a Doctor of Letters from Ball State University and a Doctor of Fine Arts from Purdue University. He was also awarded the Sagamore of the Wabash, the top honor an Indiana resident can receive from the Governor's office.
Meet the Cast of Garfield
Garfield A cynical, lazy, lasagna-loving, Monday-hating, dog-punting, mailman-mauling fat cat. Garfield's passion for food and sleep is matched only by his aversion to diet and exercise.


Jon Arbuckle The bumbling, exasperated owner of Garfield and Odie. Decent but dull, Jon provides love, food, and shelter while his playful pets provide the laughs.


Liz Liz is Garfield's vet. She treats Garfield like a patient and used to treat Jon like the plague. Then a minor miracle occurred: The good doctor developed immunity to Jon's "geekitis" and succumbed to his dweeby charms. Of course she's aware that Jon is still a loser, but now he's her lovable loser.


Odie Lovable, but brainless as a brick, Odie is Garfield's faithful friend... and often the butt of Garfield's jokes. Odie never thinks, sometimes barks, and always slobbers.


Arlene The gap-toothed, female cat most likely to share dinner (and insults) with Garfield. They have a love-hate relationship: Garfield loves himself and Arlene hates that.


Pooky Found in a dresser drawer and adopted by Garfield, Pooky is a teddy bear extraordinaire: lovable, huggable, and always there when Garfield needs him. Garfield shares his deepest thoughts (and his deepest sleeps) with his fuzzy friend.


Nermal Self-proclaimed "World's Cutest Kitten," Nermal often flaunts his cuteness while he taunts Garfield about his looks and age. But Garfield gets in his licks: He once mailed Nermal to Abu Dhabi!

What a cat! A cat for all seasons. Sassy. Opinionated. This lasagna-loving, mailman-chasing, sarcastic cat is a classic that readers love. Garfield, Odie and Jon will leave you wanting a daily dose of this beloved bunch! Garfield's crafty talent with words and sneaky preference for practical jokes often leave his owner, Jon - and us - speechless, and always wanting more.