Available for print / Web / mobile
Once upon a time there was a duplex where a young bachelor named Eno and his dog, Fang, shared an ultra-macho haven of beer, snacks, power tools and male-bonding. Suddenly, their lives turned co-ed when Gina and her poodle, Mitzi, moved into the other half of their building, putting Eno and Fang's chauvinistic natures at odds. The Duplex is a dichotomy of bath salts and sports balms, with only a 4-inch slab of drywall separating the two.
Gary McCoy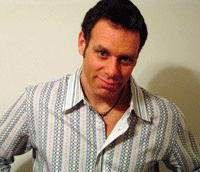 Gary McCoy was born in 1962 and developed a lifelong love of cartooning alongside his younger brother, Glenn.
For 14 years, Gary worked as the editorial cartoonist for the Suburban Journals of Greater St. Louis. His work on Illinois state issues was distributed by Copley News Service, and has been reprinted in The Washington Post, as well as some textbooks. His work has also appeared in "Best Editorial Cartoons of the Year" (Pelican Publishing Co.).
Gary is the main cartoonist for Vivid, an English language magazine dealing with art, culture, lifestyle and politics, published in Bucharest, Romania. He also freelances as a cartoonist and humor illustrator.
Gary's work as a graphic artist and freelance cartoonist has generated an impressive client list, including companies such as Anheuser-Busch, Gibson Greetings, Disney's ABC.com, NobleWorks, Inc., Marcel Schurman Design, and Playboy magazine.
His work for these clients garnered him three consecutive nominations from the National Cartoonists Society (NCS)—two as best gag cartoonist of the year, and one as best greeting-card cartoonist. Gary also dabbled in stand-up comedy, winning HBO's Stand-Up Stand-Off contest for the St. Louis area in the mid-'90s.
Glenn McCoy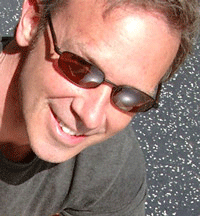 Glenn McCoy has long been recognized by his peers as a superior cartoonist.
Glenn boasts an impressive list of awards from the National Cartoonists Society (NCS), which hands out its "Reubens" each May. Glenn's list of Reubens includes wins in a record five categories: Gag Cartoons (1996, 2002, 2005, 2009); Editorial Cartoons (1997); Newspaper Panel (2010); Greeting Card (2002, 2003, 2004, 2011); and Newspaper Strip for "The Duplex" (2004 and 2011)..
Glenn was the first cartoonist to be victorious in three (NCS) categories.
His editorial cartoons have been reprinted in The New York Times, USA Today and Newsweek, and appear frequently on CNN. They also have been collected in two books, "Pot Shots" and "Pot Shots 2," both dealing with Bill Clinton's years in office.
Glenn was born in St. Louis and began drawing at age 4 under the tutelage of both his grandfather and his older brother, Gary. Weaned on "Peanuts" paperbacks, he acquired an early interest in cartooning and pursued that interest as the cartoonist for his grade school, high school and college newspapers. He graduated in 1988 from Southern Illinois University with a bachelor's degree in fine arts and graphic design.
After receiving his degree, Glenn landed a job as editorial cartoonist for the Belleville (Ill.) News-Democrat in his current hometown of Belleville.
In 1990, he won a national talent search called "Create the Comics of the '90s." Soon after, he began doing gag cartoons for some of the top magazines around the country. In 1993, his comic strip, "The Duplex" was launched by Andrews McMeel Syndication, and in 1999 Universal began syndicating his editorial cartoons. Two book collections of "The Duplex," cartoons have been published by Andrews McMeel Publishing.
Glenn has garnered two NCS Newspaper Comic Strip Cartoonist of the Year awards for his work on "The Duplex," first in 2004 and again in 2011. This is a testament to the consistent quality of work that Glenn has instilled in "The Duplex" for 20 years.
Glenn partners with his brother, Gary, to create the daily single panel cartoon "The Flying McCoys."
In addition to his editorial cartoons, comic strips and magazine cartoons, Glenn has designed and written for several animation studios including Dreamworks SKG, Film Roman and Disney. He has written and/or illustrated several children's books.
Glenn and his wife, Laura, live in Belleville with their daughter, Molly, and son, Jack.
Meet the Cast of The Duplex
Eno Camino While it may be said that some guys "have it all," it's also said that Eno Camino has absolutely none of it. A dud with the ladies and a slacker on the job, Eno weathers all of life's obstacles with a daily dose of humor, though it comes often at his own expense. With his best friend, Fang, at his side and a couple of cold brewskies in the fridge, Eno attempts to make the most of his limited existence — but without raising expectations too high. From critiquing the latest pop culture craze to pondering universal truths to nursing an oft-slapped face, Eno resides in both the deep and shallow ends of the philosophical pool simultaneously. His exploits as America's most loveable loser will bring a smile to even the most hardened cynics of our era.


Fang Eno's four-legged roommate and friend, Fang is the "The Duplex's" voice of reason. Unfortunately, no one is listening. As a loyal sidekick, Fang is ever-present to help Eno in times of need, as well as to provide timely analysis on precisely where he went wrong. A fan of cold beer and TV like his "master," Fang dutifully assists Eno in holding court on the couch and passing judgment on all before them. And while he may be the brains of the operation, instinct inevitably takes over whenever a cat wanders past.


Gina & Mitzi The female other half of the eponymous duplex, Gina and Mitzi are what Eno and Fang could be with education, ambition, tact and deodorant. Ironically, the boys seem more comfortable in their interactions with these girls than with any other individuals. However, because these get-togethers often occur at Gina and Mitzi's, it's likely that the ladies have nowhere else to run to escape.


Elvin Elvin is Eno's best human friend, and his greatest admirer. After all, Elvin has gone to extreme lengths to model his own life after Eno. From drinking beer on any occasion to letting oneself go in the physique department, Eno has served as Elvin's inspiration to underachieve — and they have each made the grade.