Available for print / Web / mobile
With its engaging quizzes, dazzling art and refreshing coverage of a wide mixture of celebrities, Biographic will bring your publication the star power to attract a new generation of readers.
Steve McGarry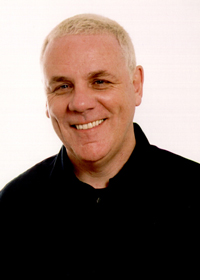 Steve McGarry is the creator of the comic strips Biographic, KidTown, Badlands and Trivquiz. Biographic combines McGarry's bold, realistic artwork with biographies of today's hottest stars. KidCity is written for children ages 6 to 12 and is designed to engage them on the comics page with puzzles, activities, scavenger hunts and trivia. The western spoof strip Badlands is about the silly and saucy antics of Marshal Mask and his motley mob of maladjusted misfits. Trivquiz is a daily dose of facts and trivia questions designed to test the reader's knowledge of pop culture.
History
Originally from the United Kingdom, McGarry followed his passions of cartooning and music to the United States. In 2001, McGarry was named president of the NCS and served two terms until 2005. In 2002, he was awarded Illustrator of the Year by the NCS and became the first overseas artist to receive a prestigious Stanley Award from the Australian Cartoonists Association. In 2012, he was awarded the NCS Silver T-Square Award in recognition of his outstanding service to the profession. He now resides in Orange County, California, with his family.
Meet the Cast of Biographic