Available for print / Web / mobile
Pittsburgh Post-Gazette editorial cartoonist Rob Rogers has been creating cartoons with impact since his college days. "His is a winning combination of dry wit, draftsmanship and a keen understanding of the humorous possibilities in current events," wrote the Chicago Tribune about Rogers' work. His cartoons have appeared in the Tribune as well as in The New York Times, The Washington Post, Newsweek, USA Today and other major newspapers and magazines. Rogers and his cartoons have also appeared on NBC's "Today," CBS's "Face the Nation," and ABC's "Good Morning America Sunday." Rogers says, "If I beat someone over the head with an opinion, all they walk away with is a sore head. If I can make them laugh, I know I've reached them."
Rob Rogers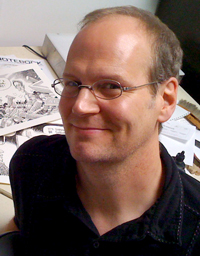 Born in Philadelphia, Rogers cultivated his interest in political cartooning at Oklahoma State University, where he drew cartoons about student issues for the college paper. He continued to hone his craft for The Vista at Central State University (now University of Central Oklahoma), covering the 1980 presidential election. After graduating in 1984 from Carnegie-Mellon University with an MFA in painting, Rogers was hired as staff cartoonist for The Pittsburgh Press. When the Pittsburgh Post-Gazette bought the Press in 1993, Rogers joined the new Post-Gazette.
Rogers received the 2000 Overseas Press Club Award and the 1995 National Headliner Award, and he has won eight Golden Quill Awards. He was a finalist for the Pulitzer Prize in 1999.
Meet the Cast of Rob Rogers