Available for print / Web / mobile
Red and Rover is about the deep, abiding love between a boy and his dog. Just like Charlie and Snoopy, 10-year-old Red and his faithful canine companion, Rover, forged their fellowship in a gentler time, when friends were forever and loyalty was unquestioned. Red and Rover have an endearing partnership that brings them -- and the strip's lucky readers -- a measure of pure delight.
Created by Brian Basset, whose Adam@Home strip has been syndicated since 1984, Red and Rover appeals to countless fans who appreciate its focus on friendship. Red's 17-year-old brother, Martin, plays the foil, while Red's parents, Carol and Charlie, attempt to keep everything running smoothly. It's an ideal cast of characters.
Brian Basset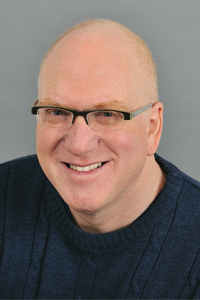 Brian was born on Nov. 30, 1957, into an artistic family. His father, Gene Basset, spent more than 40 years behind the drawing board, first as a sports and theatrical cartoonist in the 1950s, and then as an award-winning political cartoonist. As a child, Brian was always drawing. He further honed his humor skills by watching TVs "My Three Sons," "The Monkees," and, of course, "The Brady Bunch" while he was growing up in the Washington D.C. suburb of McLean, Va.
Following high school, Brian enrolled at Ohio State University, majoring in fine arts. It was on the student newspaper, The Lantern, home to such past giants as James Thurber and Milton Caniff, that Brian would really sharpen his pencils as he took up residence as the editorial cartoonist for the next three years.
In the autumn of 1978, Brian left Ohio State University and was hired on at The Seattle Times, becoming one of the youngest political cartoonists in the country -- a position he held until 1994. Ten years earlier, however, Brian dipped his pen into the world of comic strips with the creation of "Adam," a feature revolving around a stay-at-home father of three. Syndicated by Andrews McMeel Syndication, Brian would write and draw "Adam," (changed to
Adam@Home
in 1995 to tap into his own experiences after leaving editorial cartooning) for the next 25 years. In 2000, Brian launched his second comic strip feature
Red and Rover
, a retro-feel strip that revolves around the unconditional love between a boy and his dog. Brian is active around the country in animal related charities, especially with the Seattle/King County Humane Society.
The father of two grown sons, Brian lives, draws and paints from his home among the misty fir trees in the Emerald City, Seattle.
Meet the Cast of Red and Rover
Red Red (real name Russell) is a 10-year-old with dreams of going into space one day. He enjoys baseball and model rocketry. He loves Rover, his dog. Red can understand what Rover is thinking.


Rover Rover is mostly Lab with some Chesapeake Bay Retriever and Portuguese Water Dog thrown in the mix. He is usually cool, calm and collected--except when he sees a squirrel--and is very loyal to Red. Red and Rover met when Rover rescued Red from being hit by a truck. Red took him home and he's been there ever since. Rover, in turn, can understand what Red is thinking.


Martin Martin is Red's 17-year-old brother and one of the "in crowd." Martin's bedroom is in the basement, and he likes the Rolling Stones. He has bangs that often cover his eyes, and he has a girlfriend. Red can be seen either listening in on phone conversations or spying on Martin when she comes over. Martin doesn't think much of Red and frequently torments him.


Carol Carol is Red's mom. She is a part-time community college administrator and is known for her yummy fudge.


Charlie Charlie is Red's dad. He is an aerospace engineer who enjoys bowling and barbecuing.

Friends. Where would any of us be without friends? They are the wind beneath our wings, the bridge over our troubled water and, for some, the slobbery muzzle resting in our lap. A wise old soul once said a friend is one who walks in when others walk out. But for others, a best friend just really, really wants to go for a walk.
For anyone who appreciates the sweetness of a simpler time, Red and Rover will make you smile every time.