Available for print / Web / mobile
Mark Parisi's comic panel off the mark hits a bull's eye with slightly skewed humor and a twisted look at the little things we take for granted. It is a world of scheming pets, evil computers and talking plants that puts an ironic, absurd or just plain silly spin on the ordinary occurrences of everyday life.
off the mark was nominated for the National Cartoonists Society's Award for Best Newspaper Panel in 2004 and 2006 and won in 2009.
Mark Parisi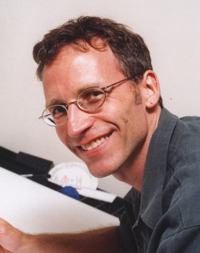 Mark Parisi, who grew up in Massachusetts, dabbled with video production at Salem State College, had a music video appear on MTV, and earned a degree in graphic design, but cartooning was always his first love. In 1987, Parisi shopped his Off The Mark comic panel around to local newspapers and eventually gained 100 clients, a line of greeting cards, T-shirts, books, calendars and a heavily trafficked website. Parisi also does a weekly cartoon for Billboard Magazine called "Rim Shots." Parisi's wife, Lynn, is also his business partner. They have a daughter and 3 cats.
Meet the Cast of Off the Mark