Available for print / Web / mobile
Marmaduke is America's most lovable Great Dane. Created by Brad Anderson, the classic comic canine has delighted newspaper readers since 1954. Marmaduke lives with the Winslow family, who, try as they might, just can't seem to get him to obey. Despite his antics, the playful pooch is top dog in the neighborhood and on the comics page, where he has endeared himself to readers in more than 20 countries. The daily panel also strikes a chord with pet owners, many of whom write to Anderson to comment on Marmaduke as if he were a real dog.

Winner of the National Cartoonists Society's 1976 Reuben Award for Best Comic Panel, Anderson has also created more than two dozen Marmaduke books, which have sold more than 10 million copies worldwide. A special 50th anniversary book, TOP DOG: Marmaduke at 50, was published by Ballantine in 2004.


También disponible en Español.
Brad Anderson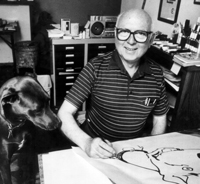 Brad and Paul Anderson are the father and son cartoonists behind the acclaimed comic panel Marmaduke. Known as America's most lovable Great Dane, the classic comic canine created by Brad has delighted comics readers for nearly six decades. The daily panel strikes a chord with pet owners. "People who've had a pet in their lives, or wish they had, will identify with the antics of this loving dog," said Paul. "He doesn't lecture or get political. He's good-natured and kind, lives a dog's life, gets into mischief and takes care of his family, generating smiles along the way."
Marmaduke on a Mission
A canine with a conscience, Marmaduke and the Andersons have helped many charities, including the Delta Society's Pet Partners program. Marmaduke was the official "spokesdog" for the group's animal-assisted therapy program, in which volunteers and their pets visit hospitals and care-center patients. Marmaduke also lent a paw to the American Cancer Society, leading its "Paws for a Cause" dog walk-a-thon for years as Chairdog. The American Association of Blood Banks chose Marmaduke to star in several public service announcements to help promote a summer blood drive. Additionally, the writing duo continues to receive outreach on how Marmaduke has taught children how to read for generations through its approachable tone and messages.
History
Brad's interest in cartooning dates back to his early childhood, when he drew popular cartoon characters to amuse himself. Born in Jamestown, N.Y., he is a graduate of Syracuse University. After years of freelance cartooning for magazines (including the Saturday Evening Post and Collier's), Brad created Marmaduke in 1954. The comic was a success, with Brad winning the National Cartoonists Society awards for Best Comic Panel in 1976 and Lifetime Achievement in 2012. Brad remains an active part of the creative team 59 years (or more aptly, 413 dog years) later.
Paul was born in San Fernando, Calif. He received his undergraduate degree from Brigham Young University and his graduate degree in management from Troy State University. Paul grew up with Marmaduke — hanging out in his father's studio, poring over the comic, contributing gag ideas and assisting Brad's work. After a 20-year career with the Air Force as a helicopter pilot and overseeing financial operations, Paul retired as a lieutenant colonel and resumed work with Brad in 2003. Paul has since become a full-time Marmaduke creator. Paul lives in the Dallas/Fort Worth metroplex while Brad resides in Lake Conroe, Texas, north of Houston.
Meet the Cast of Marmaduke
Marmaduke America's favorite Great Dane is a dog for all ages. His propensity for sheer mayhem, unwavering canine loyalty, deep philosophical reflection and uninterrupted barking make Marmaduke an unpredictable source of delight for generations of fans. A dog about town in every respect, Marmaduke keeps each and every human member of the community on his or her respective toes, while garciously extending a paw of friendship whenever possible. From frustrated dogcatchers and glowering judges to reverant children and a bewildered wildlife, this Great Dane is always up to something — and always good for a laugh.


Phil Head of the Winslow household, and Yang to Marm's Yin, Phil is his dog's most prolific enabler, his appointed dog-walker and his busiest apologist. More often than not, Phil is simply exhausted by Marmaduke's energy and ability to find trouble. But he is equally amused by the Great Dane's hijinks, especially when they complicate someone else's life!


Dottie The Winslow family matriarch, Dottie must feel like the mom to a houseful of children — her husband and dog included! That said, she is able to connect with Marmaduke at a very human-like level, anticipating his thoughts and speaking to him as one of the family. As a result, Dottie may be the one person in the entire world whom Marmaduke obeys — but only when she's watching.


Mr. and Mrs. Snyder The Winslows' elderly neighbors, the Snyders are acutely aware of the unstoppable power of Marmaduke's personality. Thankfully, they're good sports most of the time, whether Marm is looking over the fence or digging under it. For their friendship, Marmaduke is always quick with an affectionate lick for the Snyders — before heading right to their couch for a nap.