Available for print / Web / mobile
Herman Jim Unger's ground-breaking cartoon panel HERMAN is a daily feature in hundreds of daily newspapers worldwide with millions of books sold in more than 25 countries. Twice honored by the National Cartoonists Society for Best Syndicated Panel, Unger's unique illustrative style and wry humor continues to delight fans while rapidly enchanting a new generation of followers in social media. So grab onto your funny bone and get re-acquainted with Herman, one of the most hilarious and successful comic strips ever to be syndicated in newspapers.
Jim Unger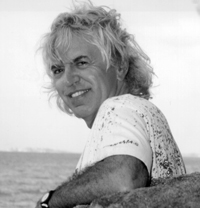 Born in London, England, Unger floated from job to job — including soldier, policeman, office clerk and repo man — before emigrating to Canada where he worked at a weekly newspaper in the Toronto suburb of Mississauga. As an amateur artist, Jim was asked to fill-in briefly for the editorial cartoonist at the paper, which earned him a few awards and recognition. Universal Press Syndicate (a.k.a. Andrews McMeel Syndication) recognized his phenomenal talent and launched him into comedic stardom. HERMAN exploded onto the comic pages in 1974 to quickly become an all-time classic feature and unquestionably inspired a generation of cartoonists that followed.
Despite his "retirement" from the pressure of newspaper deadlines in 1992, Unger never stopped writing comic gags. Assisted by his close personal friend — syndicated cartoonist David Waisglass (creator of FARCUS) — the cartoonists worked to restore, update, color and digitally remaster the HERMAN archive. Waisglass continues to update and manage HERMAN for his old friend through their company, LaughingStock.
"Jimmy was as funny in person as he was on the comic page," says Waisglass who manages HERMAN licenses including a growing collection of ebooks. "He loved to share a laugh. He'd be thrilled to see his comic continue to be enjoyed by both die-hard fans and millennials discovering HERMAN for the first time."