Available for print / Web / mobile
They're trapped, they're desperate, they're Cornered. The characters in Mike Baldwin's quirky cartoon lead lives of quiet desperation, with hilarious results. Humor gets to go places polite company simply can't, and Cornered often wanders into "what if" territory. In the end, it's discovering the inconvenient truth of being Cornered that sets you free.
Mike Baldwin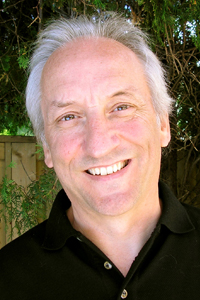 Born in Ontario, Canada, in 1954, it took almost 16 years for Mike to land his first job. It was at a meat packing plant, and it lasted four hours. The experience made him realize what he really wanted to do -- work somewhere else.
Mike's career as an artist was launched a few years later in The Burlington Gazette. He began a weekly cartoon called Peepal, and a panel called Aunt Alas soon followed. Eventually, he became the newspaper's editorial cartoonist.
Over the next several years, Mike worked at various newspapers as a cartoonist, advertising artist and art director, while creating Cornered, which was launched in syndication in 1996. Before devoting his full attention to Cornered in 1998, Mike was editorial art director at The Hamilton Spectator.
"People go out of their way to appear less stupid," says Mike. "We notice when we catch others doing it, but there's a blind spot on our rearview mirror. What I try to do in Cornered is focus on that spot. Sketch out the blurry bits when we're doing our best to be taken seriously and no one is buying it. Humor has a way of taking those awkward moments and replacing the sting with a smile of recognition. The humor in Cornered is quick and true and helps vaccinate us against all sorts of nonsense and seriousness that lies in wait around each corner."
Mike lives in Southern Ontario with his wife, Lynda, and one very large cat.
Meet the Cast of Cornered
Life isn't fair, and no one knows that better than the sad sacks who inhabit Mike Baldwin's universe. At work, at home, on a date, even meeting St. Peter at the pearly gates, these people never catch a break. But their pain is our good fortune as a dose of Cornered brightens the dullest day.
A former class clown, Mike has overcome early predictions that he'll never amount to much by successfully combining his love of art and talent for humor. He draws lumpy losers in an easy style that suits their innate goofiness, but sometimes belies the sharpness of his jokes.