Available for print / Web / mobile
Jab, poke, stick, skewer, prod, pinch, slice, dice, lambaste, lampoon, belittle, slap, wallop, ridicule, scorn, mourn, embrace, criticize, satirize and eulogize. This is the unique language of veteran Ohio political cartoonist Jeff Stahler. His cartoons are frequently reprinted in major magazines and newspapers, including Newsweek and The New York Times. According to Stahler, the most difficult part of his profession is "dry days," and the most satisfying part is "those days when I can load my ink cannon with fodder faster than I can fire it."
Jeff Stahler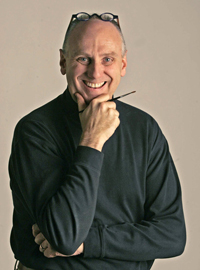 A native of Bellefontaine, Ohio, Stahler graduated from the Columbus College of Art and Design in 1977 with a bachelor of fine arts degree. He was editorial cartoonist for The Cincinnati Post from 1985 to 2004, and was previously editorial cartoonist for The Columbus Citizen-Journal. He lives in Columbus with his wife, Jeani, and their children, Maggie and Alex. Stahler also creates the whimsical slice-of-life comic panel "Moderately Confused" for Newspaper Enterprise Association.
Stahler was a finalist for the National Cartoonists Society's 1999 Reuben division award for Best Editorial Cartoons and has won numerous national and local awards, including first place in the 1990 John Fischetti Editorial Cartoon Competition.
Meet the Cast of Jeff Stahler