Available for print / Web / mobile
Herman is back! The ground-breaking offbeat cartoon panel has returned to the comic page with a mix of classic cartoons and fabulously funny new material.
The best-selling creator has sold millions of Herman book collections in more than 25 countries and was twice honored by the National Cartoonists Society as Best Syndicated Panel. Born in London, Unger floated from job to job -- including soldier, policeman, office clerk and repo man -- before realizing his phenomenal comedic and illustrative talent.
So grab onto your funny bone and get re-acquainted with Herman, one of the most hilarious and successful comic strips ever to be syndicated in newspapers.
Jim Unger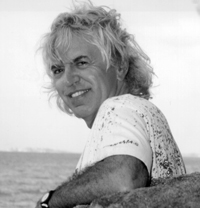 Herman®, the hilarious, groundbreaking cartoon feature that appears in hundreds of newspapers worldwide, continues despite the sad passing of creator Jim Unger.
Unger, who died in June 2012, left a legacy of more than 8,000 HERMAN comics and large following that's still going strong today. In order to keep the laughs coming, Unger passed the comedic torch to cartoonist David Waisglass and illustrator Roly Wood. Unger and Waisglass been working closely together on Herman since 1997, when Waisglass stopped work on his own syndicated newspaper cartoon, FARCUS®, to assist his mentor and manage HERMAN. "Jimmy was more than a friend," says Waisglass. "He was a brother and father-figure."
Unger's outrageous humor and distinct illustrative style were an industry, with millions of Herman book collections sold in more than 25 countries. Born in London, Unger floated from job to job — including soldier, policeman, office clerk and repo man — before realizing his phenomenal comedic and drawing talent.
In 2010, Wood joined the team to help create new Sunday strips with Waisglass and Unger. Unger was completely blown away by Wood's ability to capture Jim's unique illustrative style. He told friends and family that he'd never before met anyone who could draw Herman as well as, if not better, than himself! With the support of his cartooning partners, Unger's enthusiasm and passion for Herman were reignited.
He absolutely loved the new material and began contributing more and more new gags until his death.
Although Jim wanted to publicly credit his creative partners, Waisglass and Wood strongly believed that the focus should remain on the work and its originator. "We were Jim's biggest fans. We loved Herman and never wanted to change it," said Wood. "We were quite happy doing this in the background for Jim. Plus, it was a fabulous blind-taste test to see how fans would react to the new comics."
The positive response from fans, friends and the entire Unger family has been terrific, encouraging the creative duo to continue the work that Unger started, bringing belly laughs and hearty chortles to old and new fans.
"Roly and I are deeply committed to honoring Jim's comic legacy and his original brand of cartoon humor," says Waisglass. "It was his greatest wish that Herman live on and continue to make us laugh."
Andrews McMeel Syndication distributes the best of Jim Unger's classic cartoons along with new Herman material.
© Laughingstock Licensing Inc.