Los perros se reúnen en el café para discutir varios temas. Don Poncho es un perro medio animal y medio humano, es un genio de la estafa. Todos los días este perro precoz nos causa ataques de risa y es obvio que está entre las nuevas tiras más graciosas de EEUU.
Paul Gilligan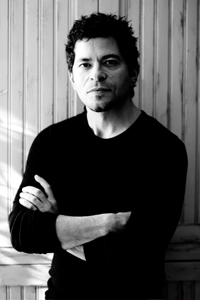 Paul Gilligan's affair with art began in 1970, in kindergarten, when he figured out that he stunk at sports and that art was his only other option for impressing chicks. Weaned on Mad magazine, super-hero comics and "Bloom County," Paul attended Toronto's Sheridan College for animation and illustration and took comedy writing at the Film Institute in Ottawa.
He joined The Ottawa Citizen newspaper as its on-staff illustrator, where he won awards in both illustration and design, and also found work in advertising, editorial cartooning, storyboarding, comic books and animation, and finally set up shop in downtown Toronto as a freelancer, where his roster of illustration clients included Time, Entertainment Weekly, The Wall Street Journal, Disney, and Wired. During this time he created a number of strips, the culmination of which was "Pooch Café."
Poncho became in instant hit with readers and has grown to 300 newspapers over the past 10 years, being nominated for the National Cartoonists Society's best comic strip in 2008. A stuffed version of Poncho has been visiting fans across the globe for the past two years, Ringtales is animating 30-second shorts of the Pooch gang's adventures, and there is a feature-length CGI movie in the works at Sony Animation.
Paul does not currently own a dog, but he skulks around dog parks doing research, and is an avid viewer of Dogs With Jobs and Scooby Doo reruns.
Meet the Cast of El Café de Poncho
Poncho El pequeño mestizo que ha estado pasando mucho más tiempo en Pooch Café desde "El Día en que Su Vida se fue por las Cañerías". También conocido como el día en que su amado amo se casó con una "persona amante de los gatos" quien se mudó a la casa de ellos con una horda de gatos.


Boomer el mejor amigo perruno de Poncho. Ha vivido un poco más que Poncho y conoce algunos pormenores más de la vida, pero su cerebro es pequeño y cargado como un resorte, lo que a menudo lo lanza a un desvarío hiperactivo. Y cuando ha tomado algunas tazas de café, cuidado con él.


Chazz el amo de Poncho. Poncho haría casi cualquier cosa para ayudar a asegurar su posición como "el mejor amigo del hombre." Frecuentemente, Chazz está atrapado entre los intereses de Poncho y su esposa, Carmen.


Carmen la esposa de Chazz. Exteriormente trata a Poncho bastante bien, pero Poncho sabe que como ella es una persona amante de los gatos, por lo tanto debe ser una fuerza de maldad pura.


Pez atrapado en un mundo de 30 centímetros de ancho, Pez es a menudo una fuente de razón e inteligencia para Poncho, siendo que está inesperadamente bien versado en ciencia, teología, naturaleza humana, y el lenguaje de los gatos.


Hudson un perro de raza pura acaudalado pero humilde que mantiene en secreto su linaje y su entrenamiento excesivo para que el resto de los perros no lo fuerce a hacer trucos.


Poo Poo un "bichón frisé" macho emasculado con un lazo rosado en su pelo y serios problemas de auto-imagen.


Droolia es una "bullmastiff" hembra babeante que no tiene en absoluto problemas de masculinidad, pero está muy enamorada de Poo Poo


Gus "Scotch terrier" de Detroit que sabe lo que compone realmente el haggis, pero se niega a decirlo.