Crabgrass is a comic strip set in the early 80's about what it means to be best friends during a time before cellphones, the internet and so-called "helicopter parenting". If you ever wonder how you managed to survive your own childhood: Crabgrass remembers.
Tauhid Bondia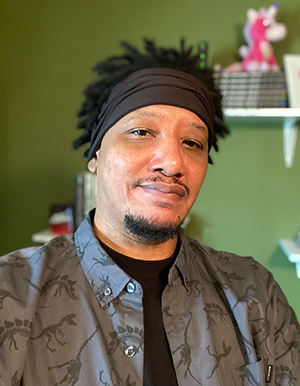 Tauhid Bondia grew up in Elizabethtown, Kentucky. A budding young artist and an early fan of comic strips, he spent many hours at the local library reading comic strip collections. His first serious attempt at drawing a serialized strip would come in 1993 when his comic "High School Daze" was published in his high school newspaper.

Tauhid briefly attended Murray State University on a Fine Arts Scholarship and went on to become a graphic designer. His days were spent designing logos for local companies and events while his nights were spent working on a variety of comic projects which were published on the web. These webcomics remained a passionate hobby for him for the next 20 years, however he would become most widely known for his strip "A Problem Like Jamal," which first appeared on GoComics.com (an AMU website) in July 2018.

In 2019, Tauhid decided to end "A Problem Like Jamal" and (with the help of his wife) developed the idea for Crabgrass. His hopes of finally becoming a syndicated cartoonist were fulfilled as the strip was selected for development by Andrews McMeel not long after. Over the course of its development, Crabgrass has enjoyed a devout following on Instagram and other social media platforms.

Tauhid currently lives in Hodgenville (one town over from his childhood home) with his wife, 3 cats, and 2 dogs.
Meet the Cast of Crabgrass