Available for print / Web / mobile
"Breaking Cat News" is based on Georgia Dunn's real cats (Elvis, Puck, and Lupin) and how they react to her family's day to day life. They report on all the news that matters to cats, keeping their viewers up to date on everything that goes on in and around their home. They live with the Woman and the Man, and are tenacious, fuzzy little reporters who are dedicated to the truth.
Georgia Dunn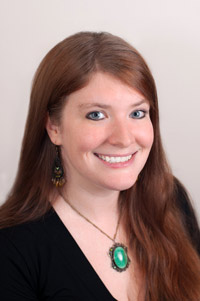 Georgia Dunn is an illustrator who works in watercolor, with pieces appearing in educational magazines and independent publications.
She was born and raised in Rhode Island, by the sea, in the forest. It was a very lovely way to grow up, and greatly influenced her art. She graduated from the University of Rhode Island in 2004 with a bachelor's degree in Fine Arts, and has been illustrating since then, with most of her success starting in 2010 when she left her day job at a bank to focus on illustrating full time.
"Breaking Cat News" came about one night when she tweeted a few jokes about her cat Lupin playing a newscaster. Friends thought it was funny, and she decided to draw it. When she posted it, the response was so great that she drew a few more strips. She quickly gained a large and devoted following and started a website for the strip in early 2014. It was picked up for online distribution by GoComics later that year. Her first book of "Breaking Cat News" strips was published in 2016 by Andrews McMeel Publishing to overwhelmingly positive reviews, holding the top sales spot on Amazon for Pet Humor and Cat Humor during its first week. There will also be a "Breaking Cat News" calendar published by Andrews McMeel Publishing.
Georgia lives in the Seattle area with her husband (seen in the strip as "The Man"), their two children, and their three cats — Elvis, Lupin and Puck, the stars of "Breaking Cat News."
Meet the Cast of Breaking Cat News
Elvis Lead reporter. Also the weather cat. Elvis is the oldest of the cats, and can get a little cranky in pursuit of a story. He loves the Woman but hates company.


Lupin Anchor cat and cat of adventure. Lupin is the youngest, friendliest and most fearless.


Puck Feline-interest reporter with hidden depths. Puck is the sweetest of the trio.


The Woman The female half of the People, the Woman is generally admired and closely followed by the CN news reporters, except when she buys them the wrong kind of food or brings out the vacuum.


The Man The male half of the People, the Man is mostly distrusted by Elvis while adored by Puck and Lupin. His naps on the couch are particularly appreciated.