Available for print / Web / mobile
Shortcuts by Jeff Harris is a compelling feature that mixes bold, colorful artwork with fun, interesting facts to create a kids page that actually entertains as it educates. Shortcuts is available electronically each week in color or black and white as a half standard broadsheet. Created by Jeff Harris, an artist and educator, each Shortcuts feature is devoted to a single subject, offering mini-lessons on science, geography, animals, food, history and holidays. The vibrant illustrations are balanced with well-researched information delivered in a kid-friendly style by five contemporary, multicultural comic characters.
Jeff Harris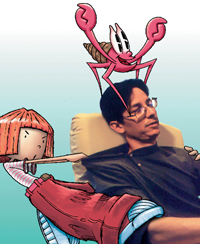 In addition to creating Shortcuts, Jeff Harris does freelance work for an advertising agency. He previously was an instructor at the Art Institute of Pittsburgh and a "virtual artist" for Yorker International, Inc., a Guam-based manufacturing company. Born and raised in Guam, Harris studied visual communication at the Art Institute of Pittsburgh and the University of Guam, where he also studied elementary education and worked as a student teacher. Harris is a prolific freelance illustrator who has worked as a graphic designer, illustrator, art director and creative director. He lives in Pennsylvania with his three children and their guinea pig.
Meet the Cast of Shortcuts