Follow the antics of Heart, the precocious yet endearing young star of Mark Tatulli's Heart of the City. Growing up in Philly with her single mom, Heart encounters endless challenges, from homework avoidance to adventures with her best friend Dean, not to mention the lectures she gets from Mrs. Angelini! Heart's a little girl with a big imagination, and she's sure to warm your heart and make you laugh.
Mark Tatulli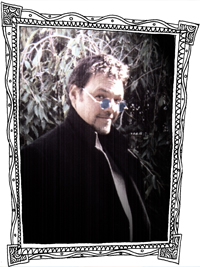 In 1988, Mark Tatulli drew his first published newspaper comic strip, for the Burlington County Times in New Jersey. His next strip, Bent Halos, a comic about a couple of rambunctious angels, was nationally syndicated. Mark eventually put the strip into hiatus to pursue other strip concepts with broader appeal, and to this day he still receives fan mail from Bent Halos readers.
In July 1997, Heart of the City first found her way onto Mark's drawing board, and she hasn't left since. Heart quickly caught the eyes of senior editors at Andrews McMeel Syndication. The strip debuted in newspapers in November 1998 and has garnered rave reviews from fans the world over.
In addition to his cartooning experience, Tatulli is also an accomplished filmmaker and animator, and is the recipient of three Emmy awards for his television work. His experience includes graphics and animation for such shows as "A Wedding Story," "Trading Spaces: Boys vs. Girls," "Epicurious," and children's DVDs.
Mark currently resides in New Jersey with his wife, son and two daughters. His children are the true joy of his life and the inspiration for much of his comic artwork.
Meet the Cast of Heart of the City
Heart A little girl with a huge imagination and an active inner life. She doesn't like school, but she loves adventure.


Dean Heart's partner in crime, Dean's a unabashed geek with a love for science fiction and a fearless outlook on life.


Kat Heart's best friend. Kat provides a slightly more realistic counterpoint to Heart's big dreams, but she's a supportive and delightful playmate.

Heart of the City is a delightful strip that showcases the lighthearted exuberance of childhood. The characters inhabit a world that will be familiar to readers, but they often go beyond this world and into the imagination of Heart and her friend Dean. At the heart (sorry) of the strip are the strong relationships between Heart and her friends, and Heart and her mother. This is a strip for everyone who has ever been a child.