Baldo fue la primera tira cómica en EEUU que se lanzó en inglés y español al mismo tiempo. La historieta trata de describir la vida cotidiana de una familia latina. Baldo ofrece un punto de vista muy gracioso sobre la experiencia de los latinos en EEUU.
Hector D. Cantú and Carlos Castellanos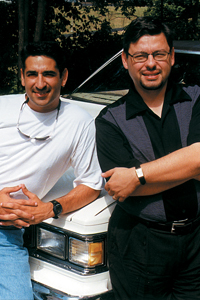 Hector Cantu
Cantu creó su primer caricatura periodística cuando tenía 12 años. "Fue en un periódico de pueblo que por casualidad era propiedad de mi hermano, pero pienso que cuenta," dice Héctor. "Esto se llama 'red de contactos'."
Cantu estudió periodismo en la Universidad de Texas en Austin y hoy es director editorial en las Heritage Auction Galleries en Dallas. Previamente fue editor gerente en la premiada revista Hispanic Business en Santa Barbara, California, y sus escritos han aparecido en la Los Angeles Times Magazine y en Hollywood Reporter.
Vive en Texas con su esposa, Linda, y sus tres hijos: Maya, Sofia y Max.
Carlos Castellanos
Carlos Castellanos es el artista detrás de la tira cómica Baldo. Enfocada en las hazañas del adolescente Baldo Bermúdez y su familia, Baldo proporciona una mirada humorística de la experiencia latina, mientras comparte la experiencia de ser joven en Norteamérica con sus lectores.
Meet the Cast of Baldo en Español
Baldo ¡La ESTRELLA del espectáculo! Un adolescente con una inclinación por la ensoñación despierta mágica que ansía salir con la niña más linda de la escuela. Mientras tanto se conforma con un buen partido de balompié y con construir su propio auto veloz, una pieza por vez.


Papá El ancla de la familia, Sergio es el dueño de un comercio que quiere solo lo mejor para sus hijos "perfectos".


Gracie Hermana pequeña con una causa que defender. Nada de lacitos y vestidos vaporosos aquí. Sólo campañas para salvar a la Tierrra y gritos de "¡Chica Power!" para esta rebelde voluntariosa pero linda y simpática.


Tía Carmen: La tía que vive con ellos, y revolotea alrededor de su sobrina y sobrino con un saco lleno de modos del Viejo Mundo, consejos llenos de sentido común y remedios mágicos.